Video editing is a laborious and time-consuming task. Even the greatest editing program needs significant human intervention to get outstanding results.
Fortunately for us, AI tools are now available. They take video editing and creation to higher levels by automating the process. 
Though some generators would cost us a bit, they offer us a free trial version. Plus, the fee is very tiny for premium features. 
Scroll down to read our 12 top-picked free AI video generators in detail!
What Are The Top 12 Free AI Video Generators?
We'll review some of the top artificial intelligence text-to-video applications to simplify our lives. We can create engaging videos for our personal use or business in just a few mouse clicks.
InVideo 
InVideo is an AI generator application that generates videos based on text input. This program can make it simple to create high-quality videos in a matter of minutes. It utilizes animated and professionally designed templates.
It is best to enter our content, choose a template that meets our needs, or create it ourselves. Then download and share the completed output immediately to social networking sites such as Facebook, YouTube, and Instagram.
In the free version, this software can enjoy amazing features like 6000+ video templates and 40 min video duration. We can use automated text-to-speech and free video sharing.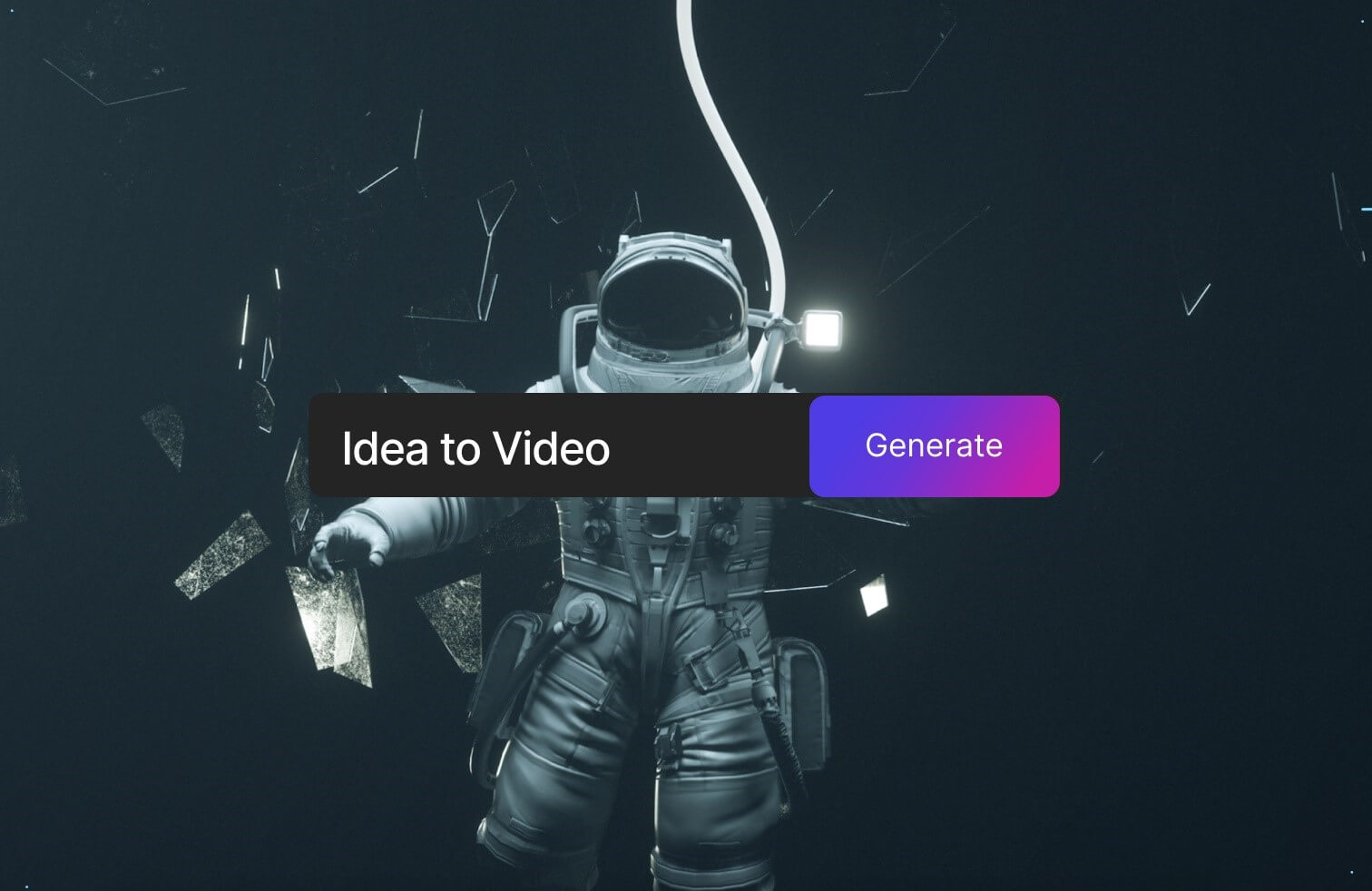 Synthesia 
Synthesia is a strong AI video text-to-video generator. It can generate actual human faces from nothing. This technique can produce realistic avatars for films, games, and other online media content.
The technique developed by Synthesia relies on an algorithm for deep learning. The web app can produce high-quality video content from a 2D snapshot. 
The system can detect facial features such as the form of the nose, lips, and eyes. Thus, Synthesia can produce extraordinarily natural looks that may trick even the most seasoned viewers.
Synthesia can make entertaining videos with accurate backgrounds and lighting settings. It enables the creation of videos that appear to have been shot in the real world. 
The technology developed by Synthesia is genuinely astounding. It can transform how we generate digital content.
Read more: Synthesia Vs Elai
Pictory 
Have you ever wished you could turn text content or long videos into short social media videos? Pictory makes this very simple. Sign up and submit our long-form video or text. 
Then, Pictory will transform it into short, engaging visual stories. We can share them on Instagram, Facebook, or Twitter. 
This video generator app will help us save time while creating videos. We can boost the exposure of our organization and considerably lessen the stress of keeping an active social networking presence. 
If you want to make videos for fun, Pictory can offer you three videos for free. In case you are a content creator or marketer, purchasing a package at a very low price is advisable.
Designs.AI
Designs.ai is a wonderful option if you're seeking an AI video maker. This online platform provides a variety of video templates that may be tailored to our requirements. We can quickly make a creative-looking video by adding our logos, text, or photos.
Furthermore, the platform offers a library of stock photos and video clips for our project. Designs.ai is a low-cost approach to generating high-quality films without the need for costly software and equipment. Simply choose a template, modify it, and create a video that will wow our audience.
Lumen5 
Lumen5 is a video-creation platform that allows us to transform content into visually compelling stories for brand and marketing awareness. With only a few mouse clicks, we can build an interactive video. 
One of the most favorite features is that it employs AI to discover music that will complement our marketing message.
It's quite easy to use. All we need to do is a script, and it will take care of the rest. It selects layouts that are an ideal match for what we've typed and puts them on an outstanding background—very visually appealing.
Users can create videos with 720p video resolution when using the free version. Unfortunately, it will contain a watermark. However, they need funding for web maintenance and development. If you don't want a watermark, you just need to pay a little.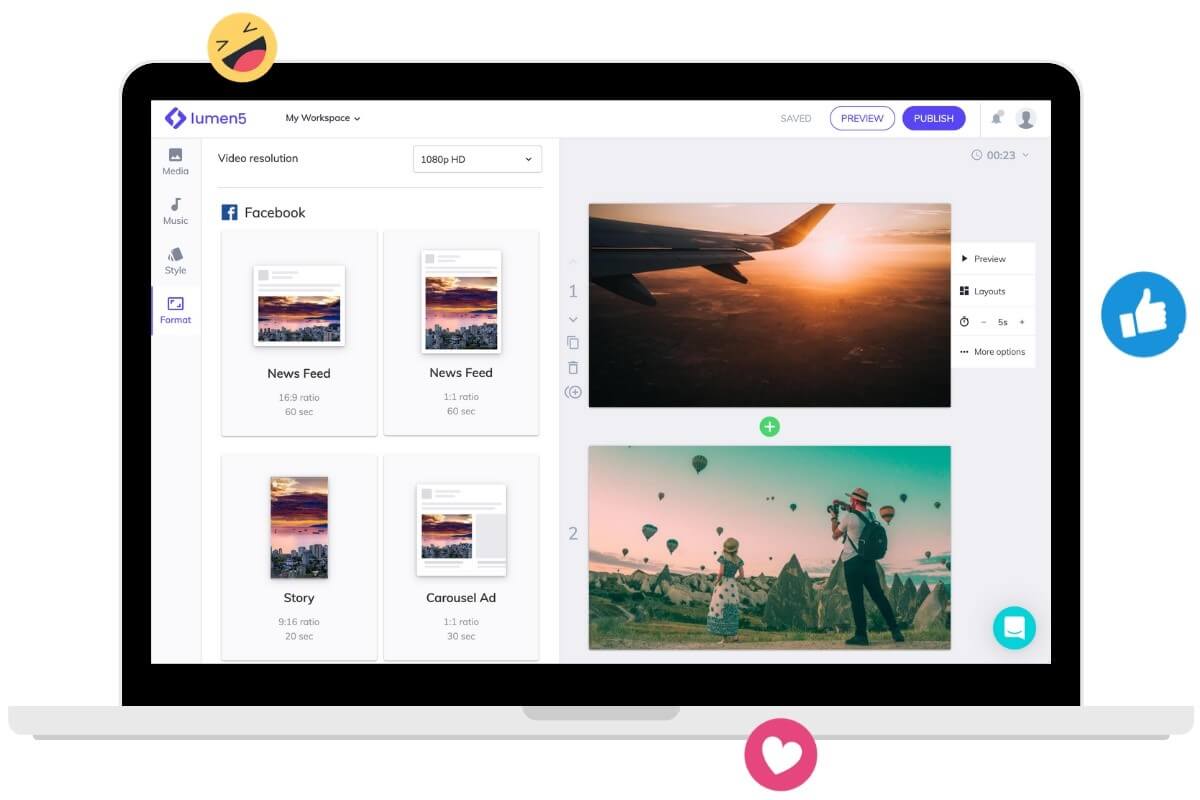 Veed.IO
A lot of editing tools are excessively complicated for everyone who is not an experienced video editor. Whether we are professionals, we must spend days exploring how to operate each tool.
VEED.IO makes creating beautiful videos simple for anybody with basic computer abilities. Using it to make engaging videos by customizing colors, text, music, fonts, and other elements brings many benefits.
We may even select from various themes based on the message we wish to express through your movie.
Synths 
Do you want to find a fresh approach to appealing to your audience? With a few mouse clicks, we can convert any blog post to a captivating video using Synths Video or select from more than forty human avatars.
Following the words in our text, this application uses AI to simulate normal-looking lip motion. We don't need to be concerned about technical skills since everything is automated.
Simply write our blog post as normal, then submit it to Synths video, which will transform it into a compelling video. Plus, we can publish to YouTube directly.
ModelScope 
The ModelScope is an AI-powered text-to-video generator produced by one of Alibaba's subsidiaries. It is based on the Diffusion Model of Hugging Face in March. 
The model is not groundbreaking. It is still far off until Gen-2. The short videos it created are so distinctively different. Some of their videos have become memes.
We can enter text like Will Smith eating noodles, which will create interesting memes or videos for us. Several users even attempted to make full stories by collecting dozens of two-second clips into a single clip. One good thing is that it is free.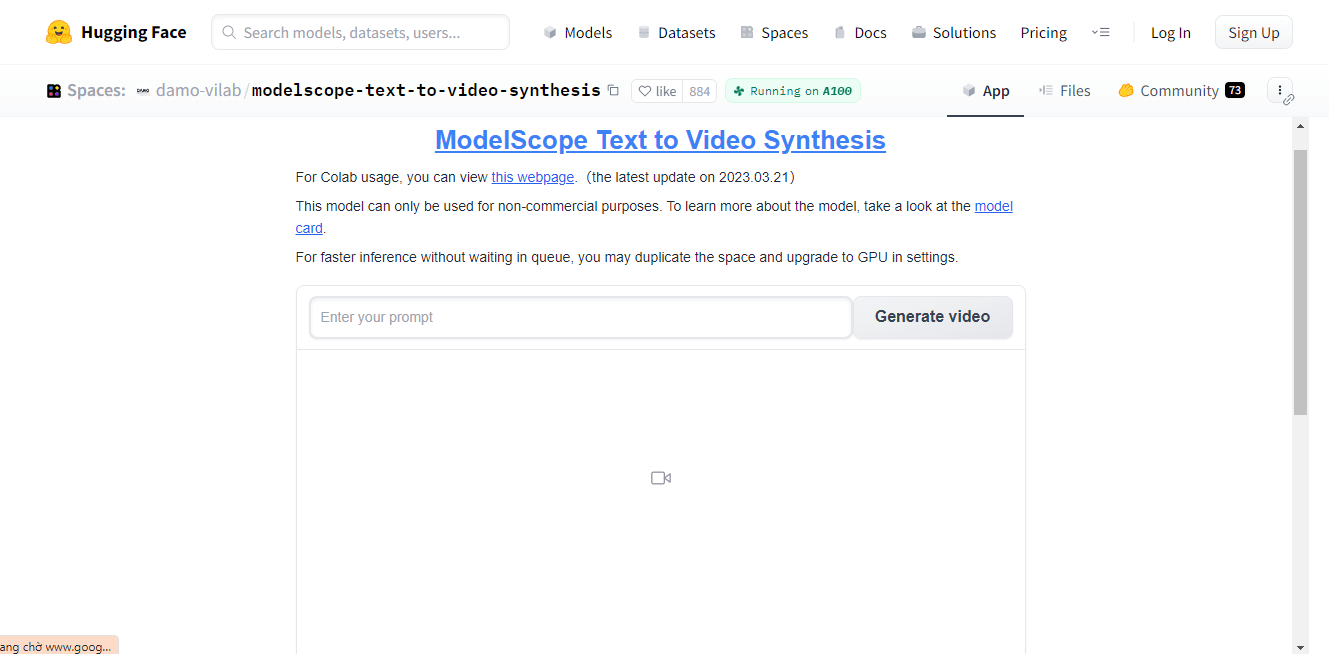 GliaCloud 
We're aware that including videos on our blog or website may help increase engagement, traffic, and conversions. Yet, we may lack the necessary time or skills to make them.
GliaCloud allows us to produce professional videos from the text in a short time. No prior experience or specific equipment in editing video tools is required. Just upload our article or enter the URL; the program will generate a visually appealing video for us.
After that, we may preview and change the script as needed before producing an HD-quality video clip. Now, we are ready to publish to our social media networks or website.
FlexClip 
FlexClip is a free AI-powered video generator that allows users to rapidly and simply make videos. It uses built-in templates and an interface that lets us drag and drop. 
Its key features are pre-built templates, a stock media library, and a drag-and-drop interface. Thus, it is very easy to use. 
If we just need basic features, they are free, so they might not be suitable for deep fake AI video creation. The plan is incredibly cheap for a premium subscription at as low as $4.99 a month.
Wisecut 
Wisecut is an AI editing tool that was created to make the video-making process easier. To make entertaining videos, we may utilize it to minimize excessive pauses, add music to the background, and integrate subtitles. 
By utilizing its auto-translation option, we may potentially reach a larger audience. Furthermore, this AI video producer produces a storyboard following our input speech. 
It allows us to effortlessly modify our video by revising the text. This AI-powered editor is suitable for vlogs, YouTube videos, and other online courses. Overall, Wisecut allows us to edit videos as an expert.
Moovly 
Moovly is a free video generator hosted in the cloud which permits users to produce professional videos. It uses pre-built themes and a drag-and-drop interface. Another great feature is that it allows voiceover recording.
They offer three plans, including enterprise, pro, and free. One of its disadvantages is limited customization options with the free version. 
In fact, this web app focuses on business. However, you can still give it a try and decide whether to pay for it or not. The plan price is very low.
Conclusion
The article is about the 12 top-picked free AI video generators. Some still need us to pay a little, but it is worth it. Most apps allow trials, and we can try them first. 
Then, we can purchase the premium features and create videos easily. You can free to consider using the advanced features for your purpose, for example in marketing or content creation. 
Thank you for reading!
Can Canvas detect other AI content besides ChatGPT?

No, Canvas currently focuses on detecting ChatGPT-generated content.

Is there a free trial on NovelAI?

Yes. However, the free trial version is only available for Story Writer features. To use the NovelAI Image Generation tool, you must turn to paid plans.

What are alternatives for NovelAI?

Here are the 3 most common text-to-image AI-driven tools you can consider: DeepAI, Picsart, and Canva.