AI algorithms like OpenAI entering the market, the writing landscape has changed forever.
Our 8 best AI paraphrasing tools such as Quillbot or Jasper the we will discuss further below. They allow writers of all levels to churn out good pieces in a blink.
1. Best For Students – Quillbot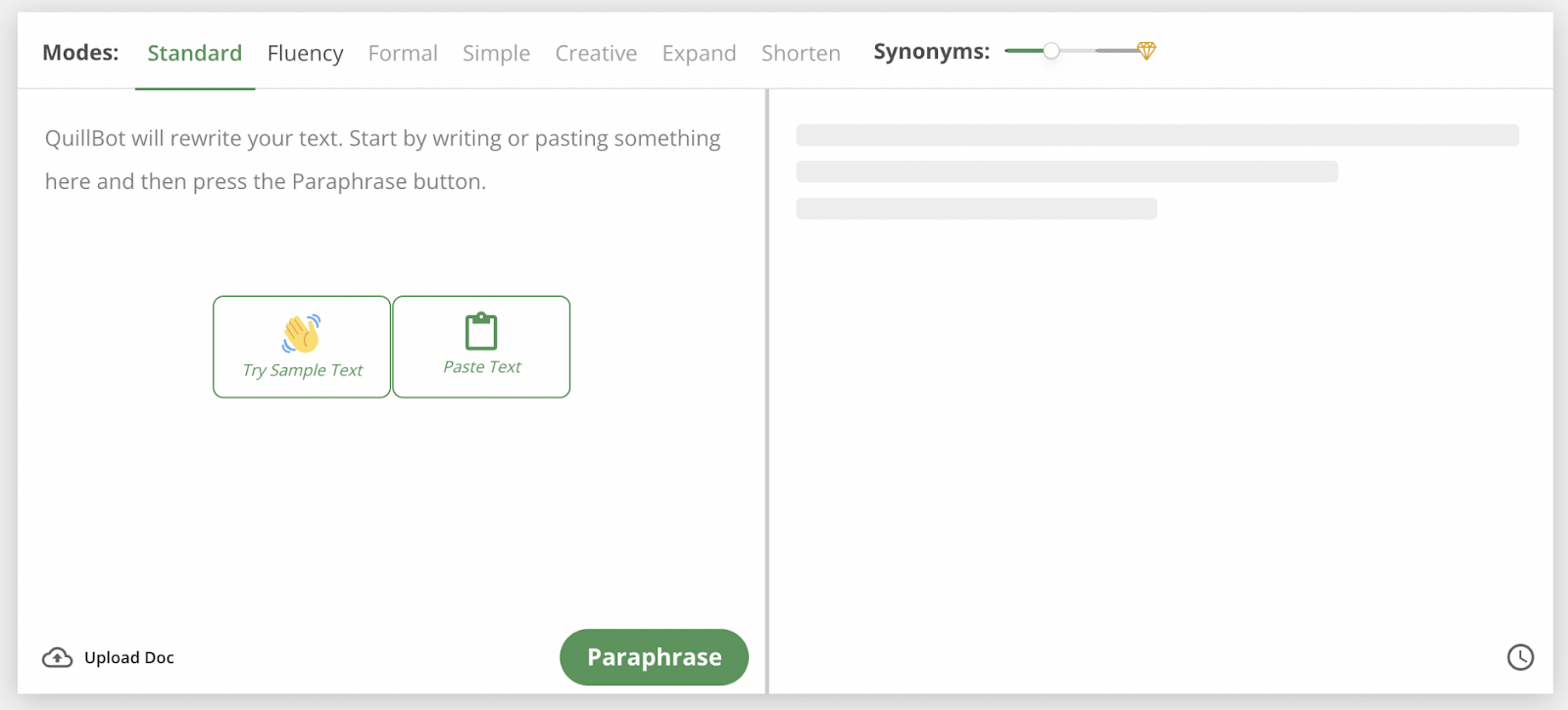 One of the most AI paraphrasing tool available is Quillbot. QuillBot introduces itself as an AI-operated paraphrasing tool that helps students change, edit, and rewrite the text tone for better clarity and reader value.
Feature highlight:
Quillbot is freely accessible (without account logins), although certain premium features are only available in the monthly/yearly package.
Besides, Quillbot offers a yearly package (which is cheap compared to what it could do). But even if students decide to use the platform for free due to a lack of budget, Quillbot still delivers.
Once pasting the original paragraph into the left-side box, you can choose any desired tone for the paraphrasing, including:
Fluency: Where natural wordflow is prioritized over other factors, great for PowerPoint presentations
Formal: Formal and eloquent words; students would love to utilize this function for their academic essays.
Simple: Quillbot will simplify the paragraph with basic, lower-level vocabulary for better reading comprehension.
Creative: Express the same ideas in creative writing
Expand/Shorten: Lengthen or shorten the paragraph while retaining its core points and arguments.
Not happy with the available word choice that Quillbot offers? Click on the word, and numerous alternatives will show on the screen. For instance, by pointing the cursor to "this book," Quillbot will introduce you to more synonyms: this volume, this work of fiction, this publication, etc.
Pros:
Suitable for students and different homework/essays
Fast
Diverse tones that all offer great writing results
Impressive vocabulary scope
Cons:
Character limitation (both paid and free plans)
Have to paid for more premium modes (creative, formal, expand, etc)
Bottom line
Quillbot can turn any writing piece into a better version of itself, with paraphrase versions that suit your particular demands. The fact that even its free plans are already that capable makes Quillbot a highly-acclaimed tool among students.
2. Best For Marketing Teams – Jasper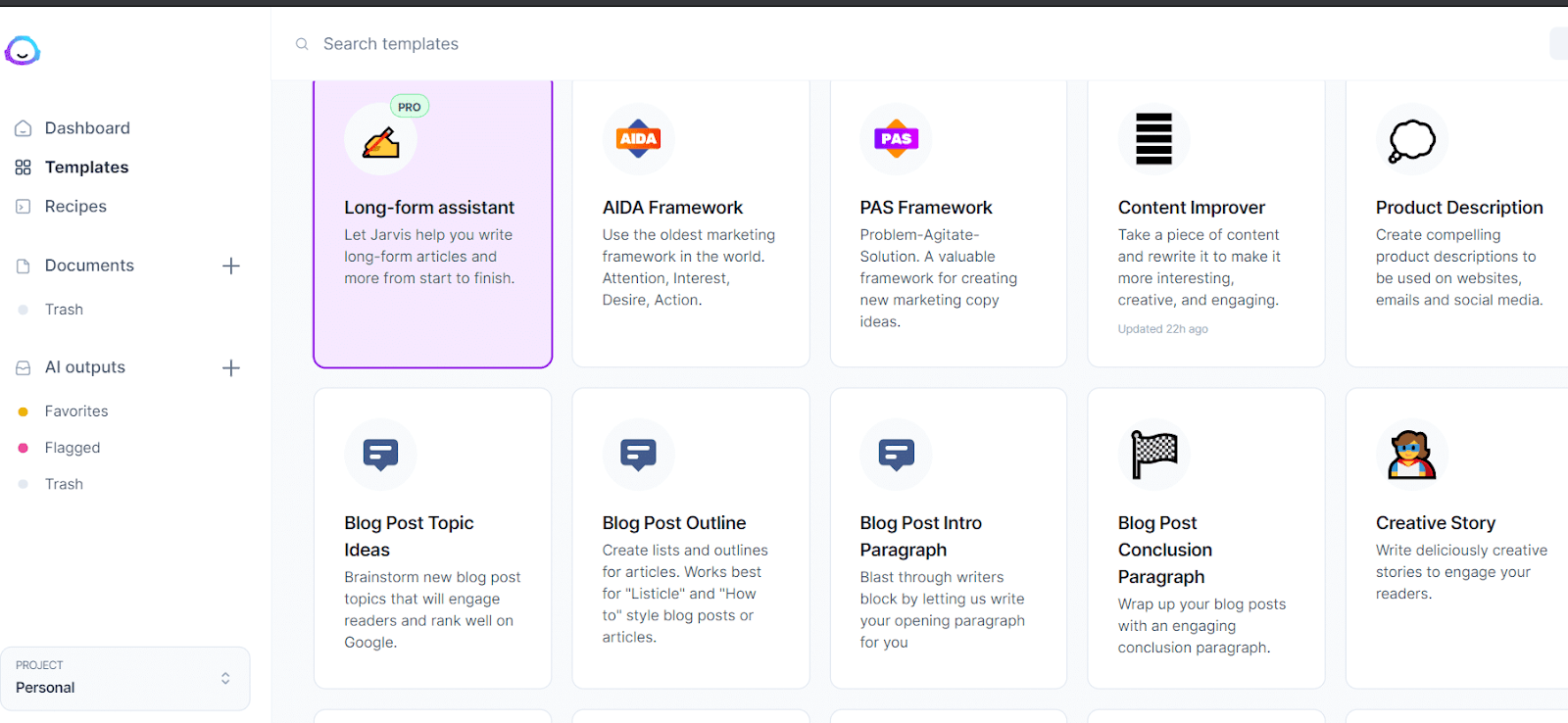 Jasper is an other ideal paraphrasing tool we want to leak for you. Jasper uses artificial intelligence algorithms to produce mass writing, such as company bios, ad copies, product descriptions, and blog posts.
With explosive and diverse training data, Jasper can both generate new ideas or expand ideas on existing paragraphs/ outlines.
Feature highlight:
Although Jasper also has a package for individual creators, most customers concur that the platform works much better for businesses and small marketing teams.
Jasper also has received 3,000+ 5 star review from individual customers and businesses. Everyone can rewrite, edit, and upgrade the same writing piece.
It enables multiple accounts to share the same billing plan and document files, which strengthens the project's collaborative nature.
Better yet, a separate history section lets the team's manager or leader track how many words each team member generates via Jasper.
Pros:
Allowing collaborative editing for the same project
Leaders can track each member's wordcount and usage
Live chat to offer further support
Cons:
No free trials (you can only try it for free after choosing a paid plan)
The paragraph sometimes repeats itself
Bottom line
At less than $100 per month for a team of 20+ members, Jasper can be quite a budget-saving solution for businesses and companies. Despite being relatively new (released in 2021), the tool has already earned quite a name for itself and will likely stay around for years to come.
3. Best For WordPress And Shopify – Hypotenuse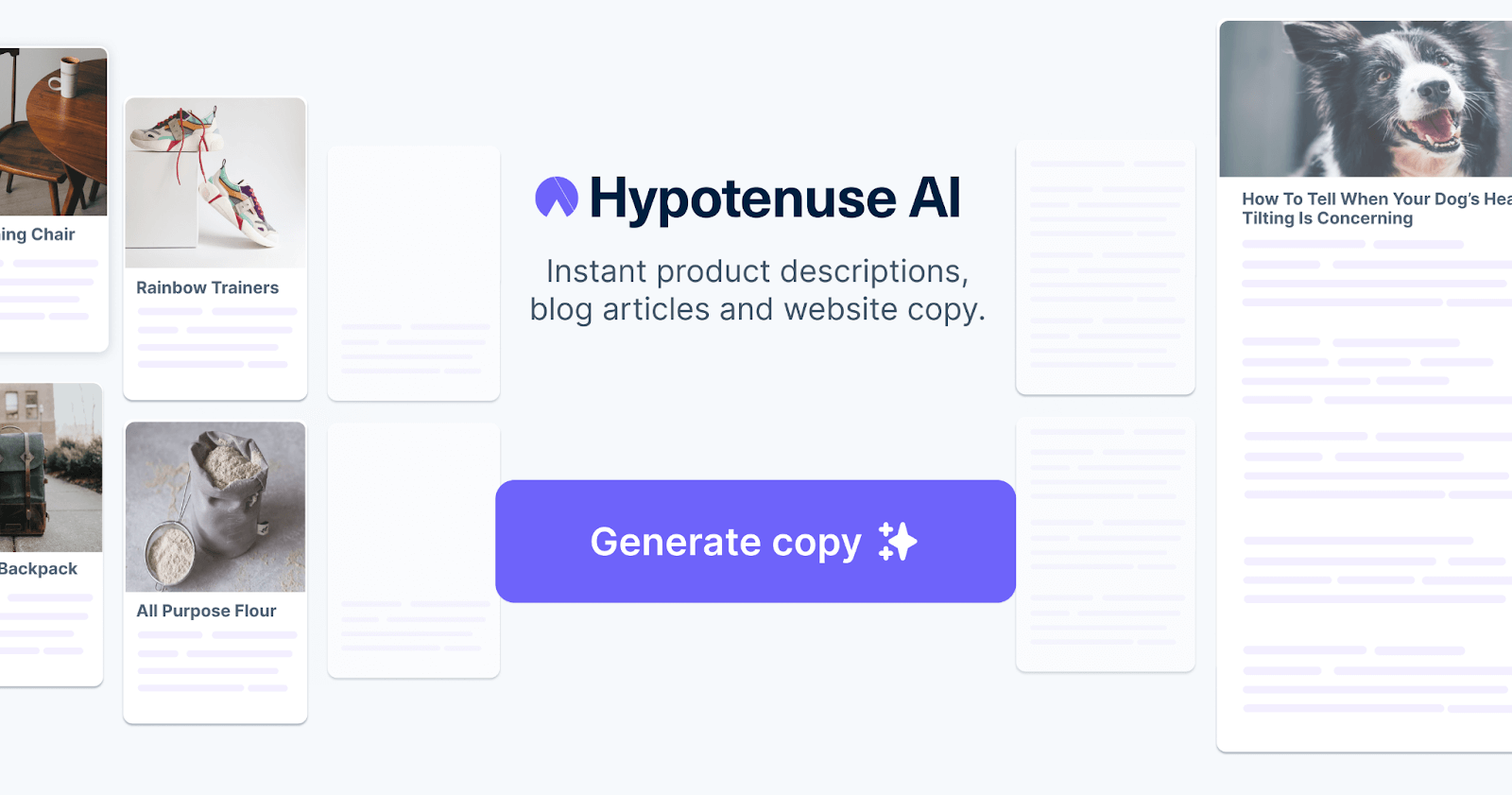 Hypotenuse runs on advanced AI technology to automate the generation/paraphrasing of advertising captions, blog articles, product descriptions, etc. What used to take weeks to accomplish only needs days now with Hypotenuse's streamlined tools.
Feature highlight:
Publishing your blog posts or marketing copies on WordPress and Shopify has never been easier.
Instead of wasting hours copy-pasting pieces from one place to another (and converting the fonts accordingly), you only need to connect Hypotenuse to your WordPress blog or Shopify store.
Whatever you generate via Hypotenuse will get published directly and instantly.
And while most AIs are notorious for "making up facts and stories," this case does not apply to Hypotenuse. Its statistics are factual and recent, backed up by trusted sources. You can give it a few experimental tasks and check the info authenticity yourself.
Pros:
Can integrate with WordPress and Shopify
Fast results
Also has image generators
Free trials
Cons:
More synonym options are needed
Bottom line
With Hypotenuse, producing daily blog posts for your website is no longer tedious and exhausting. As the workflow is fully automated, there will be much more room for your writing creativity to flourish than ever before.
4. Best For Voice Input – WriteSonic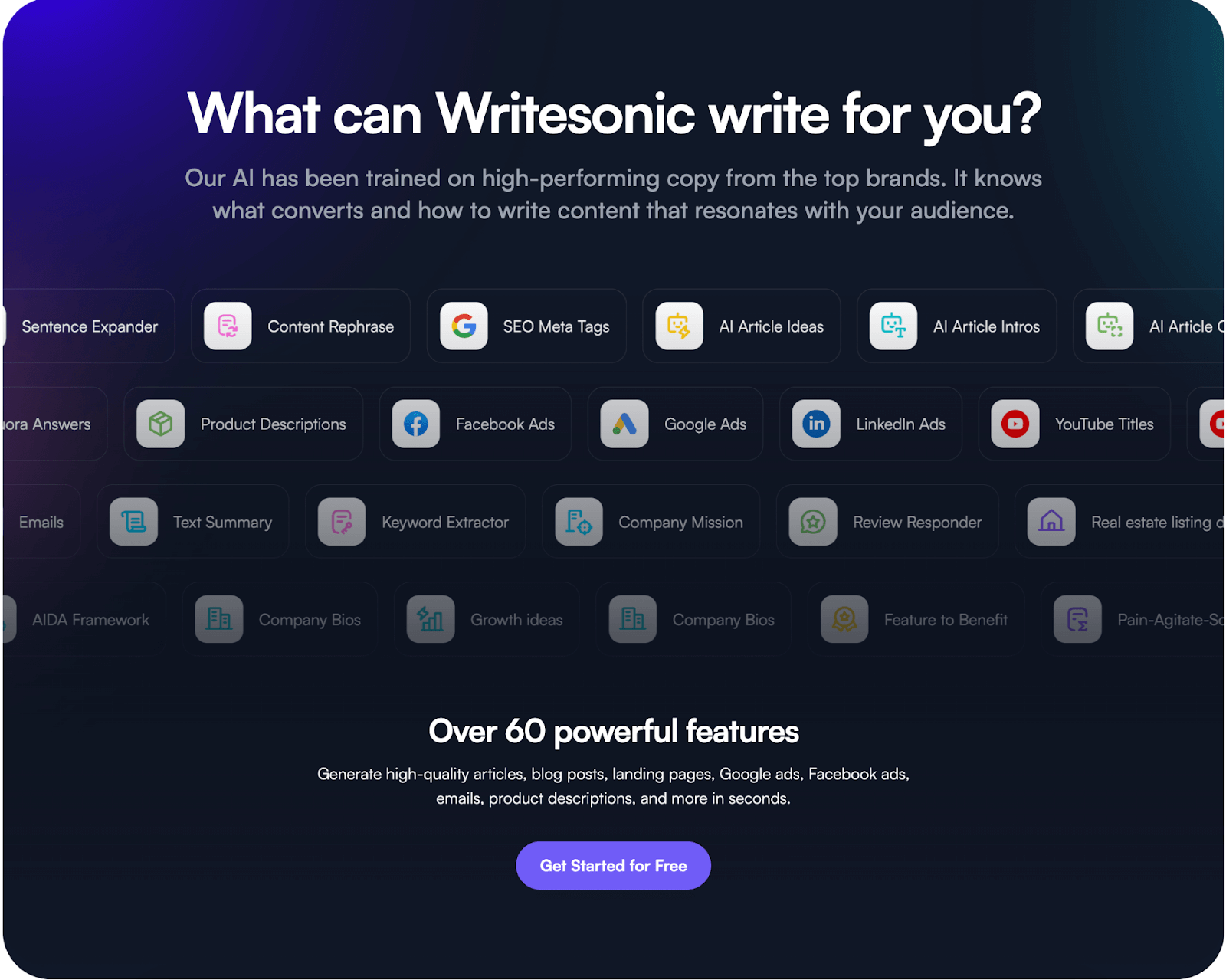 Released in 2020, WriteSonic quickly gained traction for its streamlined writing process and SEO-driven content. It is tailored for all written formats, including blog posts, article summarizers, landing pages, product descriptions, and more.
There is even a brainstorming section where you can experiment with different ideas before the actual writing.
Feature highlight:
Not everyone is a fast typer, which prompts WriteSonic to incorporate voice inputs into their prompt options. This is a huge step up from other writing tools of the same sectors.
Better yet, WriteSonic has undergone enough training to detect the emotions and tone in your voice.
So, do not be surprised if the tool can rewrite the paragraph exactly the way you want without you mentioning anything about the desired tone or style in the first place!
Pros:
Work with both text and voice inputs
Live chatbot that provides instant support
Free trials
Cons:
Character caps in the content expander
Some statistics might not be accurate
Bottom line
With its voice compatibility, WriteSonic makes it easy to produce constant articles and posts anywhere and anytime, even when your computer keyboards are broken with voice record support tool.
5. Best For Output Diversity – WordAI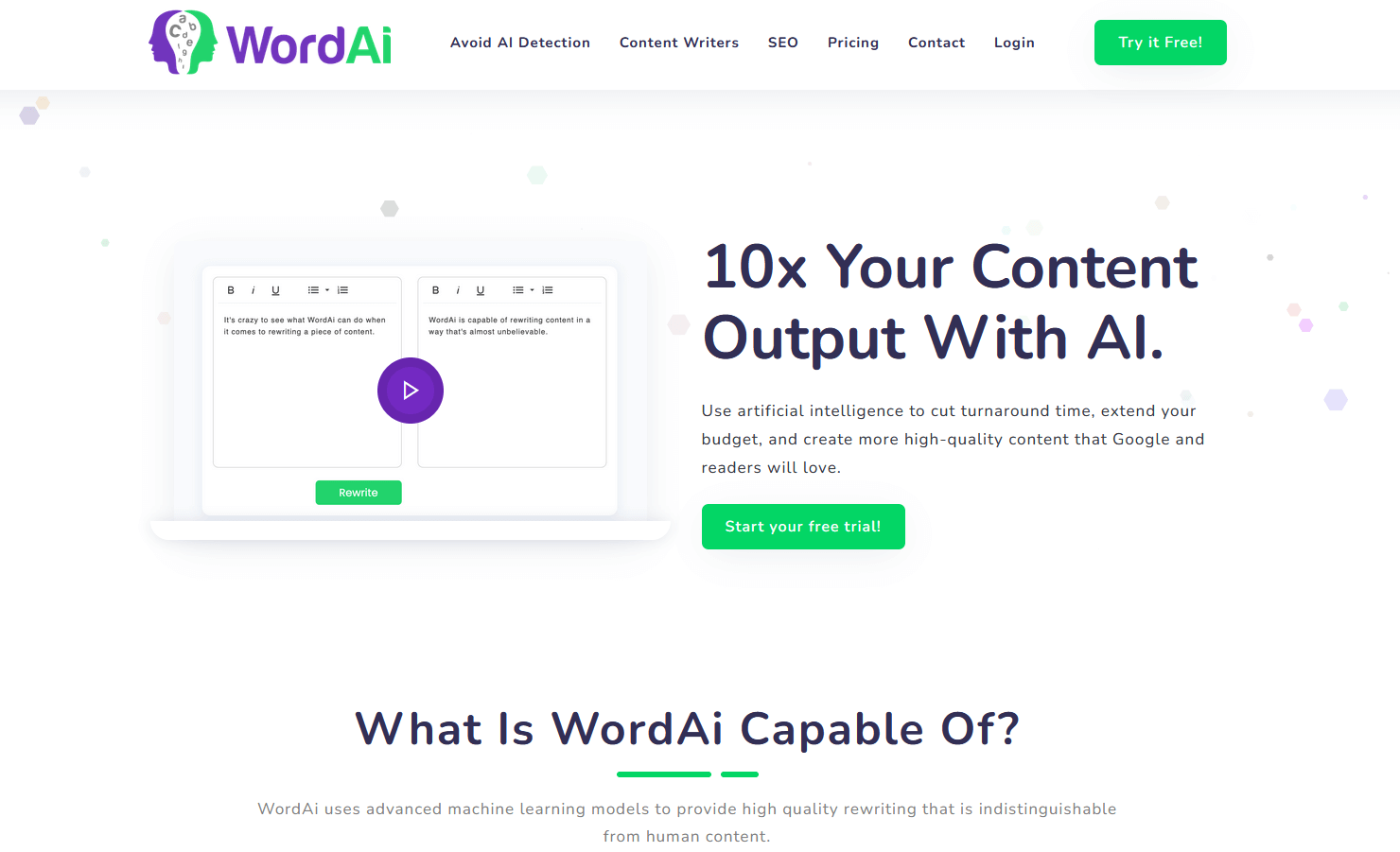 WordAI is trained to offer human-like rewriting that sounds no different from the best human writers and authors. And if you do not have any original piece to "rewrite" in the first place, turn to WordAI to generate unique content in seconds.
Feature highlight:
Even versatile paraphrasing tools like Quillbot only generate one rewrite per time. To get your hands on other rewritten article versions, you will have to hit "Paraphrase" over and over again.
Worse, after 5-6 times doing so, the writing starts to sound repetitive!
None of such issues would occur with WordAI; the tool can generate 1100+ rewrites for just one original paragraph, each using unique writing patterns that sound nothing similar to other versions. Some of its most notable abilities include:
Restructuring sentences
Finding different expressions for the same idea
Enriching texts with new information
Splitting sentences for better clarity
Using better, more descriptive vocabulary
Pros:
1100+ rewrites for each original paragraph
Functions for bulk rewrite/mass productions
Supporting HTML
Cons:
A bit pricey
Still needs thorough proofreading
Bottom line
It takes humans hours or even days to come up with several versions of their drafts; meanwhile, WordAI barely needs a few minutes. Imagine how much time and effort you could save with this versatile assistant by your side.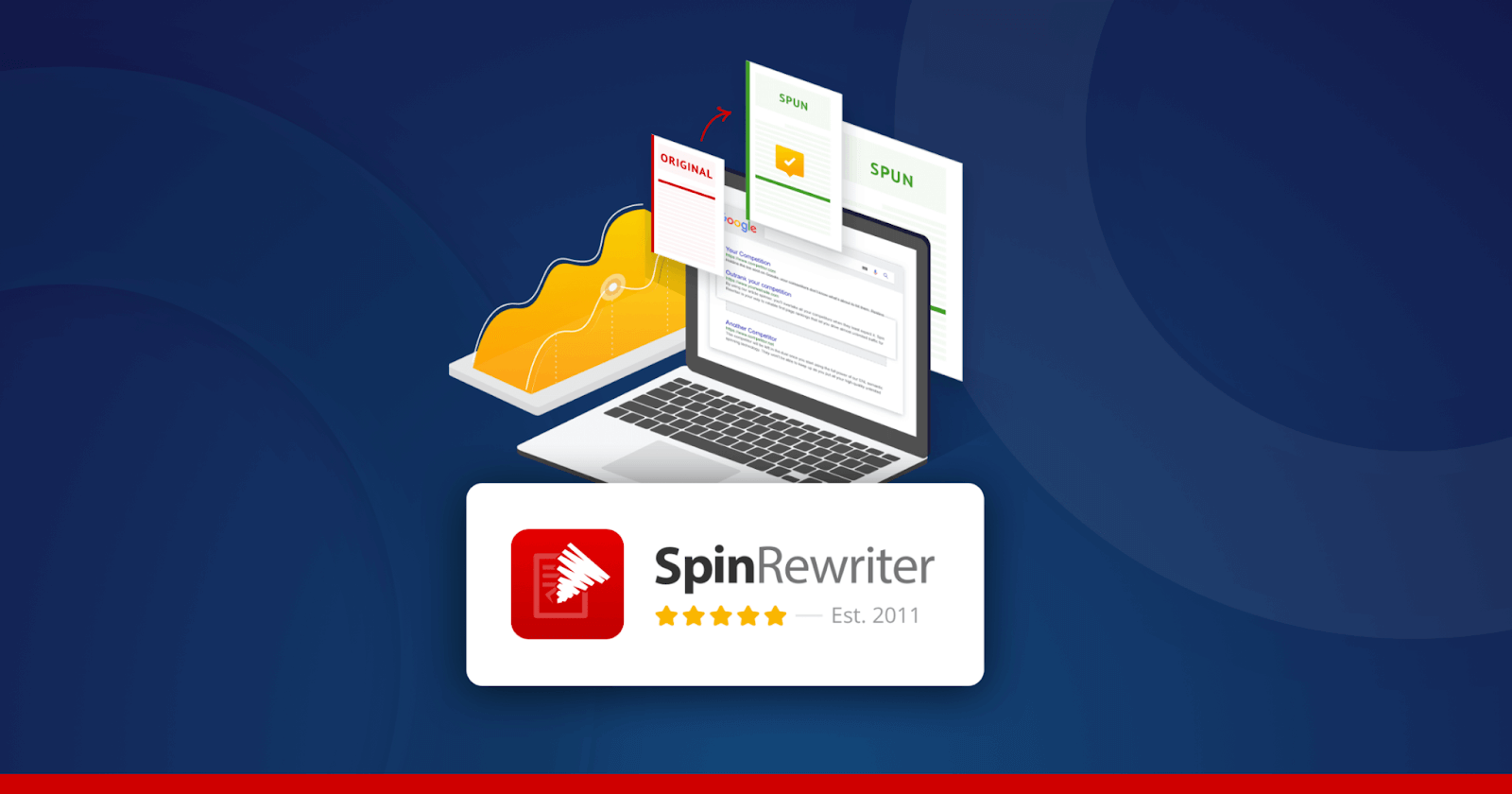 Spin Rewriter has integrated with ENL (Emulated Natural Languages) technology that can digest vocabulary in diverse contexts and offer synonyms with the exact same meaning and expression level.
Hence, one does not have to worry about the risks of lost translation, all the original ideas are rewritten or re-expressed in the most creative ways without losing integrity.
Feature highlight:
Spin Rewriter's cloud-based platforms and intuitive interface is great news for people that have to switch often between working devices.
Many customers exclaim utter joy at its impressive ability to adapt to phones, tablets, laptops, and desktops of all models and production years.
As such, whether you are sitting conveniently in a spacious office or crammed on a school bus, Spin Rewriter can help you churn out quality pieces just fine.
Pros:
Working with all devices
High-quality, context-appropriate rewriting
Can be purchased one time (no monthly or yearly subscription)
Cons:
Bottom line
Spin Rewriter wows even the pickiest writer with its interface flexibility and high-quality writing. If it come with more affordable pricing, Spin Rewriter even would chart much higher on our list.
7. Best For No-Wifi Usage – ChimpRewriter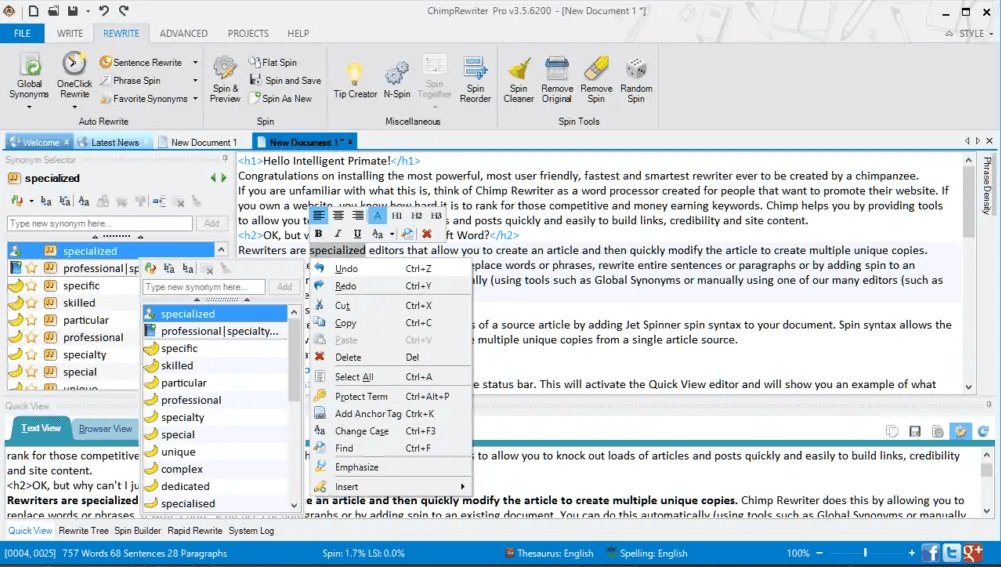 ChimWriter, an Australia-based tool, spins and rewrites paragraphs within minutes using NLP (Natural Languages Processing) and updated AI algorithms. Since its launch, the tool has assisted hundreds of thousands of writers in 12+ languages.
Feature highlight:
ChimpWriter software requires downloads and installments. While that might sound inconvenient at first, imagine all the benefits it would bring about in the case of lost electricity or Internet connection.
Instead of letting your productivity waste away waiting for the power to turn back on, ChimpWriter continues to work diligently from beginning to end, producing and publishing blog articles at a neck-breaking speed.
Not to mention, you are also given much more freedom in choosing a place to work. Whether it is a cafeteria with good beverages and a nice view or a nearby park bench, trust ChimpWriter to deliver only the best performances.
Pros:
Does not need Wifi or Internet connection
Fast speed
30-day guarantee
Can integrate with ChatGPT
Cons:
Eat up the computer's data storage (since it has to be downloaded)
Bottom line
ChimpWriter says no to heavy reliance on an Internet connection and offers a versatile, independent, and wifi-less writing program that can work online anywhere and anytime. Even in situations where the Internet is inaccessible or unallowed (such as during flights), your workflow will remain hardly disturbed.
8. Best For Citation Generator – Multilings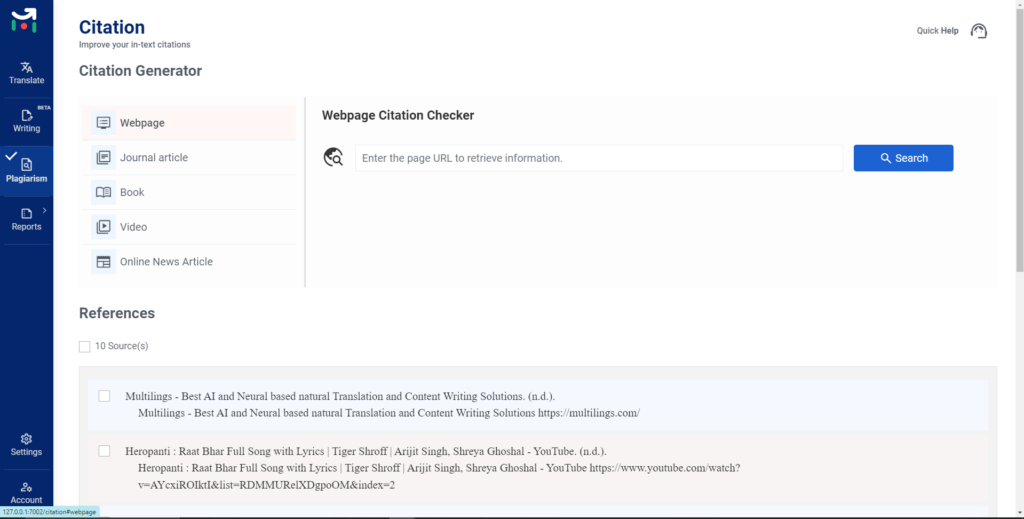 Using neutral AI machines, Multilings offers high-quality, human-like writing for content generation, text translation, plagiarism avoidance, paraphrases, and more.
Feature highlight:
Aside from impressive rewritings and content spin, Multilings sets itself apart from other products with its inclusive citation generator, which adds a touch of professionalism and reputation to your writing.
How lucky! Citations are compulsory in journals and research studies.
All you need is to paste the book's title or the website link into the citation checker box, and Mutilings will complete the rest of the research to dig out the missing information (publication year, page, etc.)
Better yet, since the citation format requirements vary across different institutions and publishing houses, the platform offers multiple format options for you to choose from, such as APA, MLA, Chicago, and IEEE style.
Pros:
Can generate accurate citations in different formats
Great language translations
60+ language support
Cons:
A bit expensive
Some rewrites are repetitive
Bottom line
Finding and checking source references used to eat up half of the writing process. But now, thanks to Multilings' automated citation generator, your productivity and writing process will speed up ten folds.
Conclusion
Our 8 best paraphrasing tools are ideal solutions for your project or exercise thanks to the support of AI assistants.
Quillbot is definitely on the top list and popular choice recently with free, easily accessible, and requiring no account logins.
Still, other contenders on our best AI paraphrasing tool list are also worth a second look. Weight their pros and cons, and write to me if you need more support or clarifications.
Can Canvas detect other AI content besides ChatGPT?

No, Canvas currently focuses on detecting ChatGPT-generated content.

Is there a free trial on NovelAI?

Yes. However, the free trial version is only available for Story Writer features. To use the NovelAI Image Generation tool, you must turn to paid plans.

What are alternatives for NovelAI?

Here are the 3 most common text-to-image AI-driven tools you can consider: DeepAI, Picsart, and Canva.
Related posts: