Are you looking for the best AI voice generator?
With the development of powerful AI and voice synthesis technologies, you can simulate any type of voice possible, and the whole process is fairly straightforward.
With our optimized options out there, picking on a suit might be tricky. In this post, we'll go through the top 10 best AI voice generators to help you make the best choice.
Let's get started!
Top 10 Best AI Voice Generators 2023
An AI voice generator is a tool employing artificial intelligence and speech synthesis technology to generate natural-sounding speech and audio. We will give you in-depth reviews of the 10 best AI voice generators for your specific needs.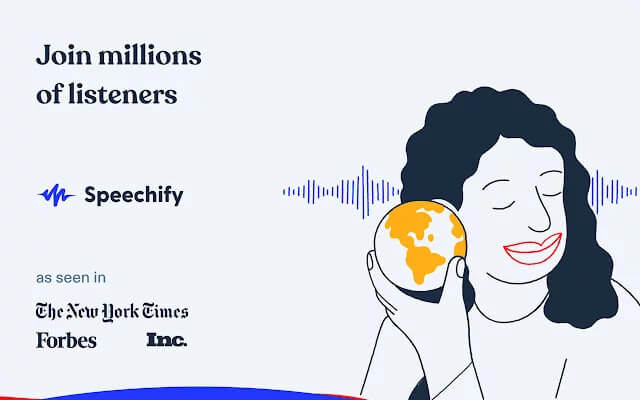 Speechify is the top choice for the best AI voice generator on today's list. This software is regarded as a powerful AI text-to-speech program that allows users to produce natural-sounding voices using real-time speech.
Feature Highlights
Speechify using the most advanced AI technology and speech synthesis can be found on all the best platforms including Google Chrome, iOS, Android, & Mac.
It was first developed for supporting dyslexic people. Besides, it can boost your work productivity, making it an ideal solution for passionate readers, students, content creators, and writers.
Besides, it gives you access to dozens of languages and supports multiple languages, and boasts hundreds of unique voices for users to choose from.
Pros
Have a high reading speed of up to 9x faster than the average speed.
Include a wide range of realistic and natural-sounding voices.
Provide an instant translation into + 30 languages.
Integrate seamlessly with online browsers and mobile devices.
Support cross-platform reading.
Cons
The word limit for premium voices is 150,000 words.
Some voice skins sound robotic.
Speechify readers are not always 100% accurate for certain spoken words and sentences.
Bottom line
In all, Speechify is a versatile and strong AI voice production app that makes text reading and listening a breeze.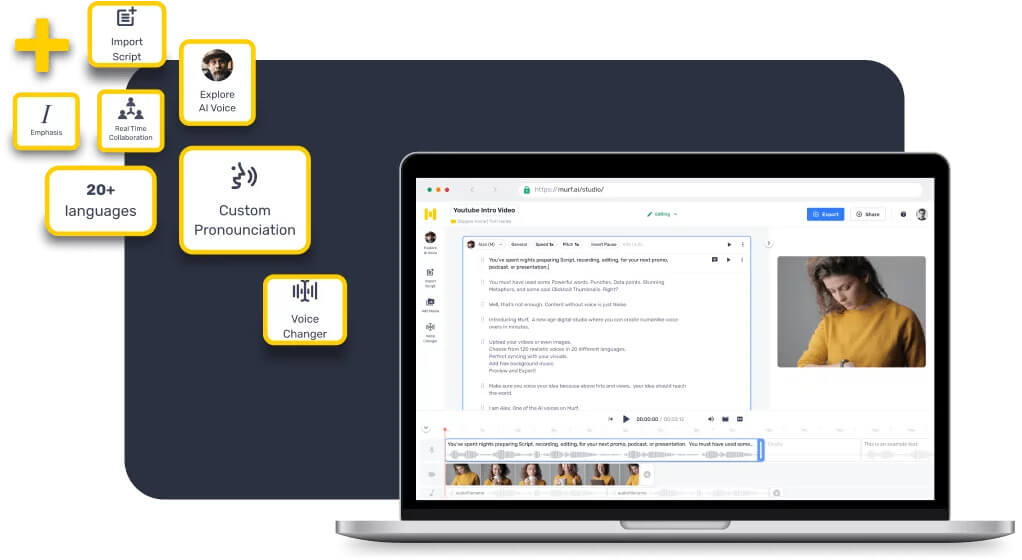 If you are looking for a reliable and safe AI voice generator, Murf AI is the way to go. Especially, it is the "golden key" for the production of virtual assistants and chatbots nowadays.
Feature Highlights
Murf AI platform is the best voice generator by artificial intelligence for a wide range of uses, including podcast, audiobook, and video creation.
The best part is that Murf AI offers fine-tuned features for numerous customization options. The voices generated by Murf AI can be modified with their pitch, speed, and tone tools.
You can change settings and preview your project before getting your final audio.
Pros
The web interface is simple to use.
Text can be converted to 120+ voices in 20+ languages, with supporting numerous accents.
The audio quality is extremely realistic and human-like.
All data on Murf AI is secured by two-factor authentication.
Cons
The software price is a bit high.
Some UI interface elements do not respond quickly.
The app is not always accurately converting the text in noisy environments or some simultaneous speakers.
Bottom line
Overall, Murf AI is designed to assist you in creating better video content. You would greatly benefit from additional editing features of Murf AI.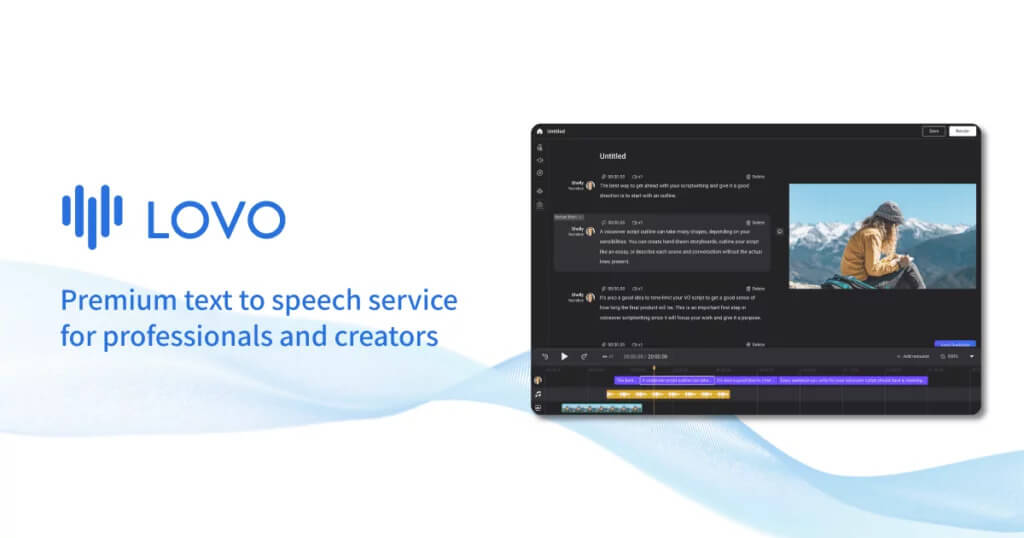 Do you lack technical skills yet want to produce high-quality AI voices for your projects?
Fret not! LOVO can help.
Feature Highlights
LOVO can generate professional voiceovers and speech synthesis for marketing, games, films, eLearning, and localization purposes. It is trusted by 500,000 users to effortlessly create audio and video content.
LOVO offers a diverse range of natural-sounding voices for different purposes.
You can also fine-tune your voice using a variety of formats. Furthermore, the voice generated by this tool is fairly easy to understand.
Pros
Have an easy-to-use user interface.
Boast 200+ voices in 34 languages and dialects.
Include customizable voice styles, emotions, and speech speed.
Have a voice cloning function to produce distinct voice personas.
Cons
Some voice skins sound robotic and sometimes broken.
Fine-tuning features are still limited.
Bottom line
In general, LOVO is worth being the cutting-edge best AI voice generator with numerous benefits at an affordable price.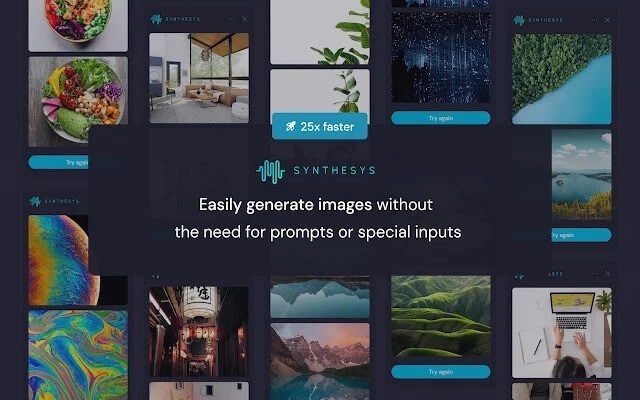 Are you self-conscious in front of a camera? Do you want to develop a virtual brand stand for your content?
Luckily, Synthesis will do the job for you.
Feature Highlights
This platform is at the cutting edge in building algorithms for commercial text-to-voiceover and video applications.
Synthesis uses lip-syncing AI video technology to provide high-quality videos and audio with natural-sounding speech and a variety of virtual avatars.
Synthesys utilizes text-to-speech and text-to-video technologies to turn your script into attractive and engaging media displays.
Pros
Features 400 different gender voices with 120+ languages.
Provide infinite voiceover downloads.
Have many AI avatars or you can design your own.
Offer at reasonable pricing with several discounts.
Cons
It takes a while to pair your assigned digital avatar with an appropriate AI voice.
Certain words may be incorrectly spoken, and you may have to employ phonetic spelling.
Bottom line
All in all, Synthesis is an amazing tool for video content creation with digital avatars and great lifelike AI voices. If you run a video project that needs a virtual look, look no further than Synthesis.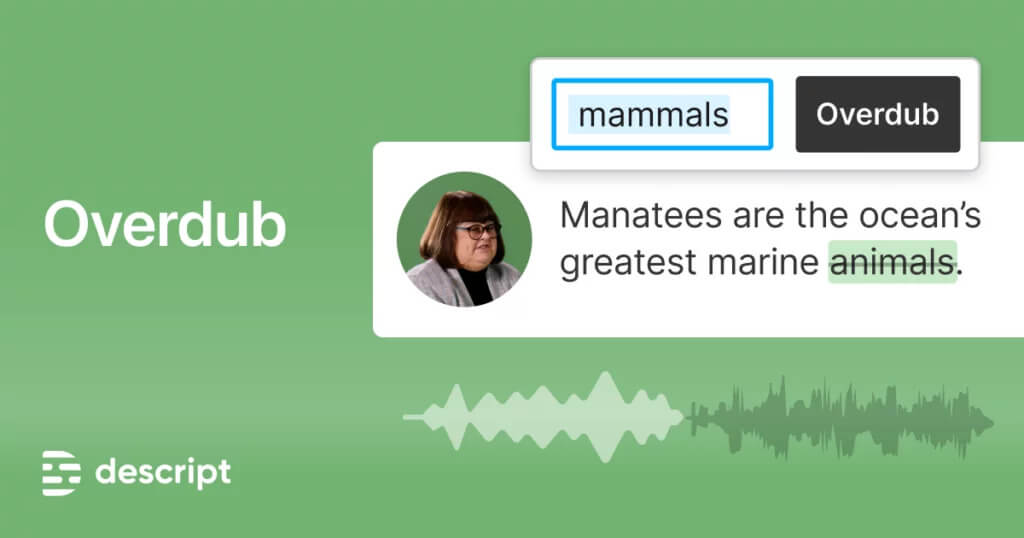 Take a look at Descript Overdub if you are seeking the best AI voice generator with an excellent voice cloning feature.
Features Highlights
Besides offering ultra-realistic stock voices, Descript Overdub also allows you to create voice cloning using simulations of your own.
You don't need to speak all the text. Simply speak or read into the tool to make an ultra-realistic voice clone of yourself in a few seconds.
Pros
Use Lyrebird AI to generate accurate and realistic voice cloning.
Provide 12+ male and female voices in 22 languages
Allow to create and edit videos combined with AI-generated voices
Cons
Only the English language is supported, which is less than the other alternatives on our list.
You cannot work on multiple projects and files at the same time.
It is not really user-friendly for newbies.
Bottom line
Despite its limited language availability, the Descript Overdub version is the best pick on our list for stimulating your voice fast and error-free.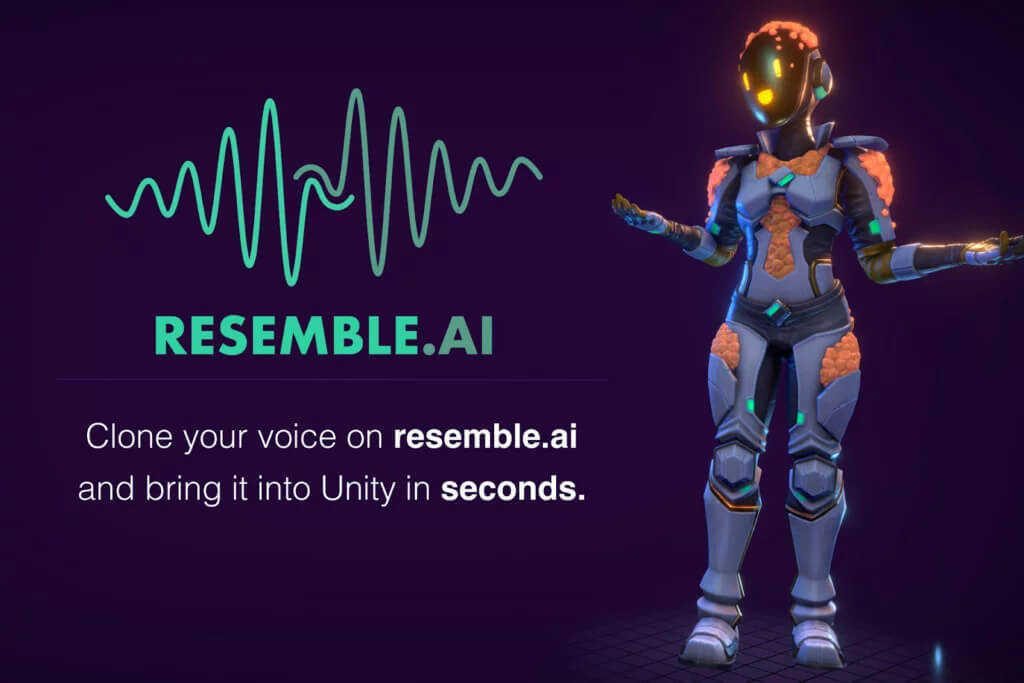 Resemble AI will be of interest to anyone seeking the best AI voice generator with an emphasis on customization options.
Feature Highlights
Resemble provides users with human-like voices. When it comes to customized brand voices, this software excels in its flexibility with various customization options.
It also allows you to post, type, or speak your natural voice and can be turned into an AI voice in multiple languages.
Moreover, you can also add inflections and emotions to your video content piece.
Pros
Support cross-lingual in 24+ languages.
Generate custom AI voices from the input audio.
Create your own AI voice using voice actors from the marketplace.
Include emotion control for produced voices.
Cons
There is no free version of Resemble.
Although there are ways to customize emotions, AI voices may still sound robotic.
Bottom line
Since Resemble does not come with a free plan, consider carefully before subscribing. However, if you value customization capability, Resemble is your best bet.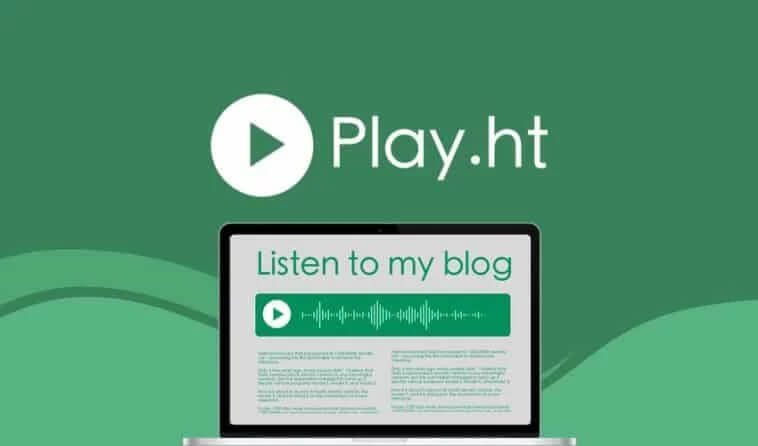 Play.ht is a flexible AI voice generator built mostly for content creators, bloggers, and podcasters, and it does not require any technical knowledge to run.
Feature Highlights
The cutting-edge text to Speech editor in Play.ht allows you to customize the voiceover to your specifications. Its primary goal is to turn textual material into compelling audio experiences.
You can produce conversational audio by using numerous AI voices and complete SSML machine-learning functionalities.
Furthermore, Play.ht also allows you to integrate, upload and share audio files in your blog posts or web pages to boost accessibility.
Pros
Feature an easy-to-use user interface for text-to-speech conversion.
Include an array of narration styles to ensure that your audio maintains the correct tone and sounds.
Flexible integration options for a seamless experience such as API Access, WordPress Plugin, JS Code snippet, and Chrome extension.
Cons
Audio quality varies based on text and settings.
You need to unlock pricing plans for longer audio output duration.
Non-English languages have poor pronunciation.
Bottom line
To summarize, Play.ht is software that allows you to easily convert your blog material into audio files that can be spread with a larger audience. However, you need to pay if you want to create long audio.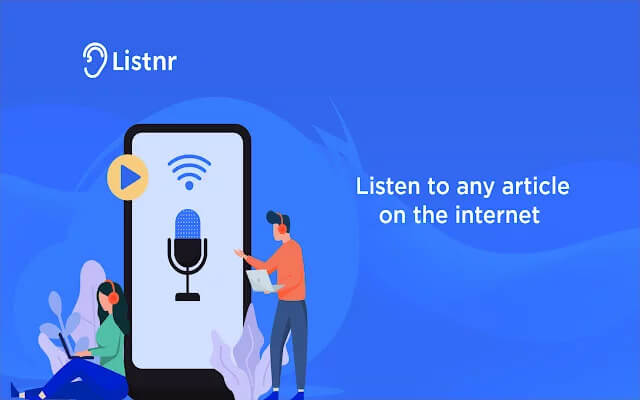 Listnr is an innovative and versatile solution for making appealing and informative video and audio content.
Feature Highlights
Listnr has over 900 voices in more than 140 languages. You can pick the voices that work best for you based on accents, speech patterns, and voice-over styles.
It makes it simple to convert text to speech for a variety of applications, including videos, audio posts, podcasts, eLearning, and voice assistants.
Pros
Listnr goes with a number of accents and voices from which to adapt the results to your specific needs.
The audio output is of high quality and free of distortion.
Cons
The editor appears to be clumsy.
The voice output may sound robotic.
Bottom line
Listnr is without a doubt one of the greatest AI voice generators available right now, especially given the variety of voice skins available.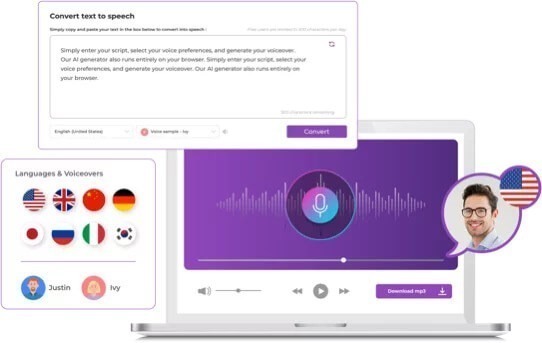 Speechmaker is the right choice for anyone looking for a fast online text-to-voice generator.
Feature Highlights
Speechmaker can produce a voice-over in only three steps within seconds.
Besides, this best AI voice generator also allows you to adjust the tone and pitch of the voice in your script. Once a batch is done, you can run it immediately or save it for later use.
Pros
The voice creation process is quick and straightforward.
Have + 50 high-quality voices in + 20 languages.
Cons
The price is quite expensive for those looking for a low-cost service.
Bottom line
If you are looking for a quick service with high accuracy, Speechmaker is the best solution. However, think twice about its price before paying.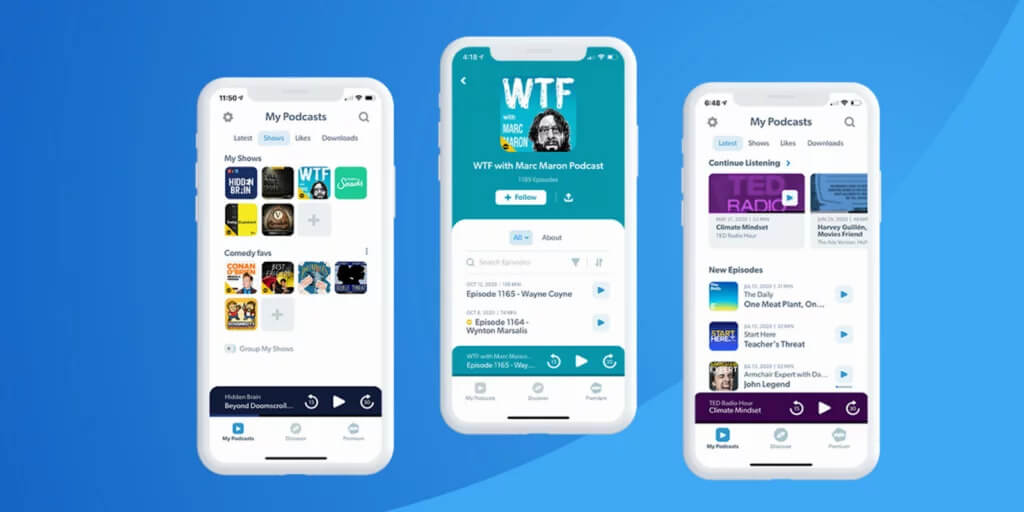 To round up this list today, let's move to Stitcher.
Feature Highlights
Stitcher is specifically created to assist podcasters in growing their businesses and listeners. In fact, Stitcher is more of a podcasting platform than an AI voice generator.
This platform will greatly benefit you whether you are a listener or a content developer on Stitcher.
Pros
Have a user-friendly interface.
Available on iOS, Android, our Web player, Apple Carplay, Android Auto, Alexa devices, Sonos, and more.
The price is pretty affordable with the Premium version at only $4.99 monthly.
Cons
It's sometimes hard to navigate
Free plans are very limited. It's recommended to get Stitcher Premium for more convenient features
Bottom line
Overall, Stitcher may not help you generate AI voice like other apps on this list, but it's an amazing platform for you to spread your AI voice podcast projects to the world.
Conclusion
Alright! Have you figured out your most desired AI voice generator from our list?
Although there are numerous AI voice generators available, we have tried to compile a list of the best platforms on the market now.
We hope our 10 picks above will help you limit your options and provide you with a helpful guide to finding the best AI voice generator that works best for you.
How realistic are AI-generated voices?

Currently, AI-powered voices have advanced significantly. Most AI voice platforms now offer incredibly realistic human-like voices. It's almost hard to distinguish from a real person's voice.

Is voice AI totally free?

Almost NO. While there may be a free ai voice generator out there, it may be a trial in a few days only. Free plans typically limit many advanced features. However, you can test out a free version before deciding to pay for the paid one.

What is the best AI voice generator?

From our list above, you may consider Speechify as the best overall, LOVO for high-quality voice output, or Synthesis if you need to make voice cloning. But, this is based on your purposes and favorites in creating voices work.