AI (Artificial Intelligence) has increasingly been integrated into video editing tools to streamline marketers' working processes. While that is great news, customers face another dilemma: so many options have been introduced to the market that finding the best software for your project becomes difficult.
Our guide aims to alleviate headaches for you by curating the best 10 AI video generator products below. Let's dive in. 
Top 10 Best AI Video Generator Options In 2023
Each of the ten options below excels in varied aspects and also has its own drawbacks. We will delve into them all, giving you an insightful overview to make better buying decisions.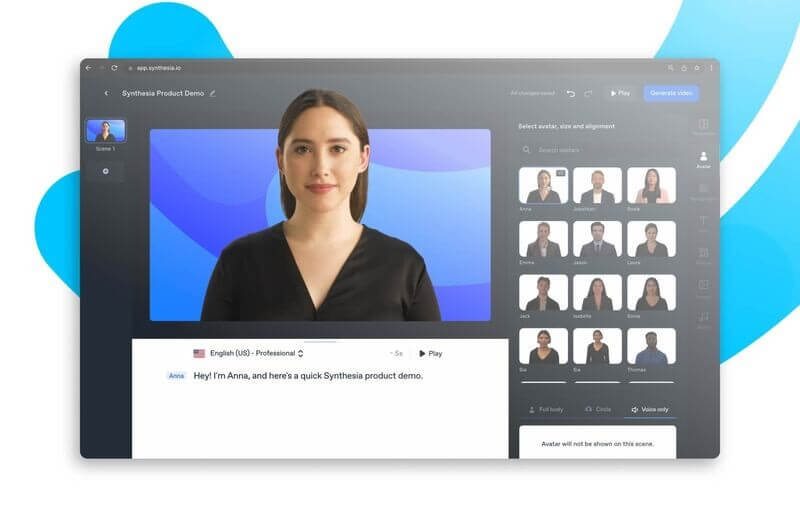 Synthesia is an AI-based platform that utilizes machine learning to make clips of realistic-looking avatars talking and presenting topics in multiple languages. It also allows users to choose customizable backgrounds, audio options, and avatar genders to tailor to specific marketing demands. 
Feature Highlights
While most rivals have a limited language library, Synthesia outperforms in this regard by providing support for 120 languages worldwide, ensuring users from all corners of the world can utilize and maximize the software's potential. 
The brand also offers over 55 design templates and over 85 avatars to delight customers with endless customization options. Feel free to build your own if none of these avatars are to your taste. Synthesia welcomes creativity of all types! 
Pros
120 languages, 85 avatars, and 55 templates up to customization
Users can create their own avatars
Massive photo library from Unsplash and Shutterstock
Full-size video editors for further refinements
Cons
Occasional voice syncing issues
Occasional lagging
Slight mispronunciations of languages other than English
Bottom Line
More improvements are required for certain languages other than English, but Synthesia is still an excellent video generator that cements a position in the technology field. Simple interface, easy usage, and diverse customization options, the software barely lacks anything. 

Those looking for premium text-based video creators can find some solace in InVideo, one of the most reputable names in this sector. Its AI-operated technology enables users to turn words into vibrating, explosive videos in seconds, saving half their working hours. 
Feature Highlights
At first usage, we were blown away by InVideo's vast template library – which overshadows any other brand on the market. With over 5000+ preset designs in trendy and eye-catching colors, users never run out of ideas and creative juice for their video projects.
As mentioned in the overview, this software speeds up the editing procedures by turning your word inputs into instant matching visuals, – terrific for beginners with no editing skills. 
Better yet, the clips have automatic-adjusting ratios, which will enlarge or shorten to fit specific platforms (Instagram, for instance).
Pros
5000 preset templates
Shortcut, single-click features give the video a more professional vibe.
Can convert text prompts, blog posts, and scripts into video
Aspect ratios are automatically adjusted to suit various social media platforms.
Cons
It doesn't support avatar addition
The layout and design can be overwhelming for beginners
Rendering takes time
Bottom Line
Not many video editing apps are tailored for beginners, but InVideo prides itself on being among the few exceptions. The text-to-clip conversion requires zero background experience, and the insane template library only adds to your convenience.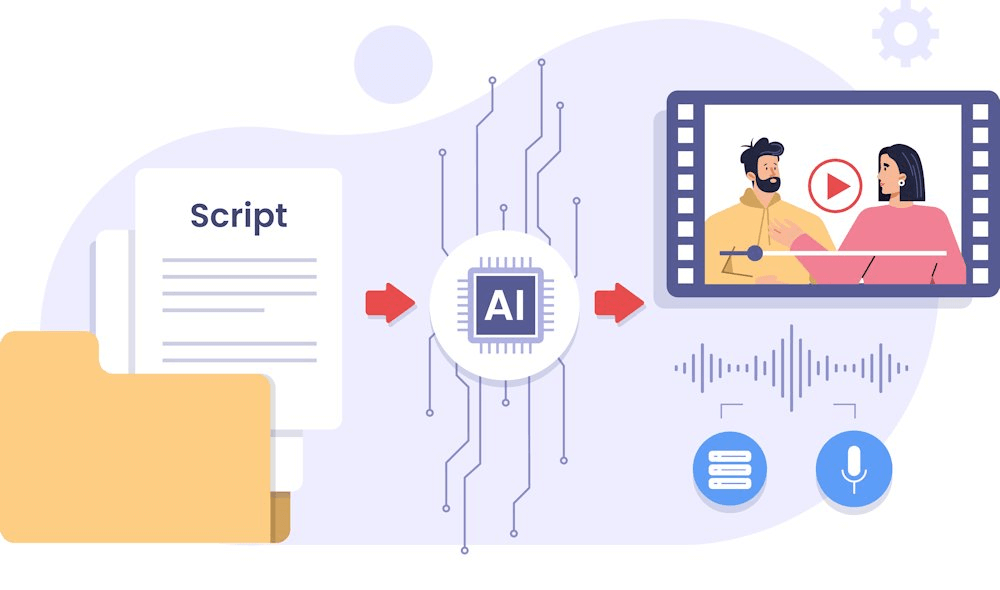 Another name to look out for is Pictory AI, which embeds AI in its visual storytelling mechanism to create fast yet high-quality video from text prompts. Other templates and design elements are also provided to give the clips further polishing, reshaping them into perfect reflections of the brand's messages and principles.
Feature Highlights
Invideo's user-friendly design amazes us, but Pictory truly takes it to another level. Aside from the text-to-clip function that can transform any prompt or article into a video, the software utilizes auto-generated scanning to single out the best parts of a long-form video to shorten and make it more concise. 
This feature is especially practical for platforms with video-length limits (Instagram, for example, whose uploaded video cannot be longer than 1 minute).
Just type your simple demands into the box, and Pictory will strive to do what you ask without any active intervention on your part! 
Pros
Turn scripts and articles into videos.
Auto-generate concise and smaller videos from the original long clips.
Automatic caption
Cons
Limited customization choices
Limited media and stock image content
Its user interface is sometimes not smooth
Bottom Line
This is a terrific starting tool for beginners, which gives them a sense of what to do and not to do without costing a dime by using AI-based video editing purely based on text prompts and auto-scan.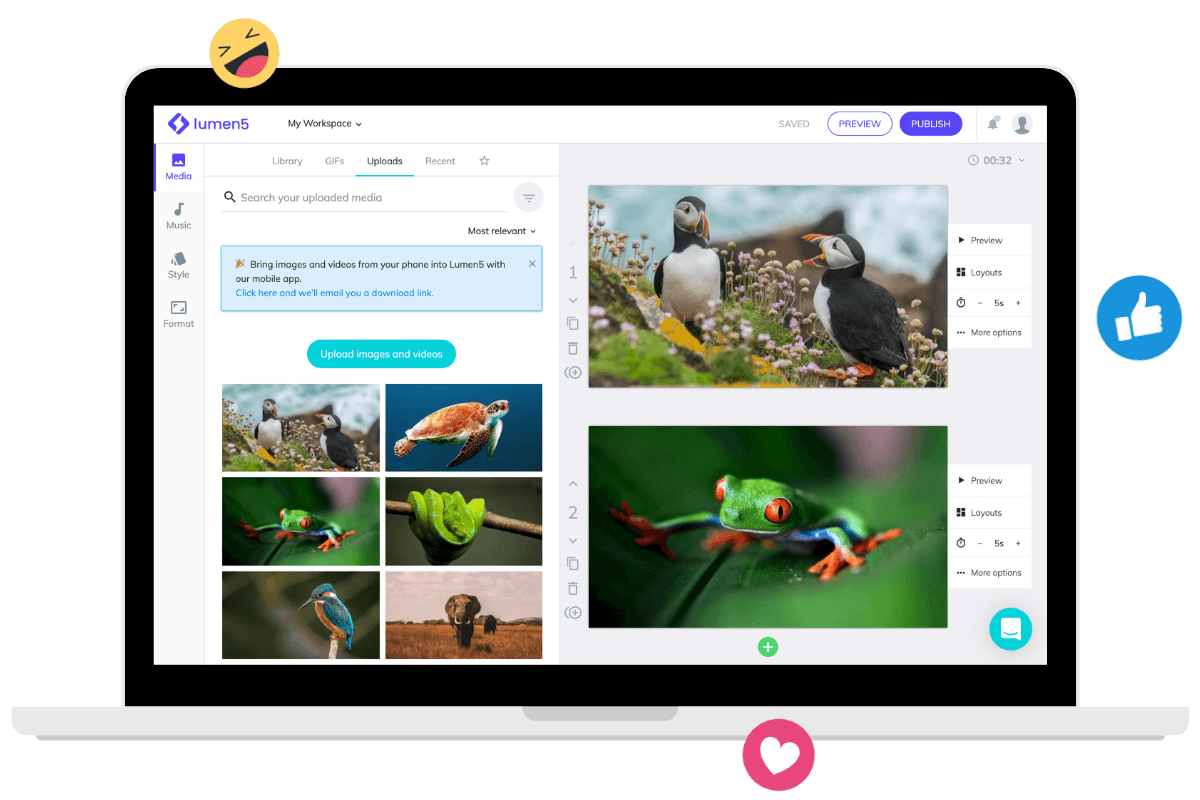 Lumen5 competes with other long-established competitors to stay dominant in the AI-generating sector. It helps create amazing videos with beautiful templates, easy drag-and-drop functions, and other relevant editing capabilities. The brand has been behind 10 million clips thus far and continues to thrive in popularity. 
Feature Highlights
Lumen5 scours through millions of Internet resources to have its templates and designs spot-on, fitting into different working fields. 
No wonder people of all industries can find something that matches their preferences here: from education, medical treatment, and entertainment to sports. Lumen5's pre-made designs do not disappoint. 
Better yet, these learning algorithms stay updated every day to guarantee the best template qualities for all users.
Editing features like watermark edition, ratio adjustments, etc., also score well for us. The software can even fetch original images from given website links to embed in its videos, saving us hours of saving and downloading photos to our computers. 
Pros
Easy drag-and-drop functionality
Updated and growing learning algorithms to improve design qualities
Auto-generated captions
Fetching links from blog links to embed images and create video
Cons
Confusing UI and outdated layouts
Text formats need to be redone every time users switch templates
Video renditions take a lot of time
Bottom Line
If only the UI is updated, then Lumen5 would score 10 out of 10 for us. For now, though, we are still satisfied with its current offerings: updated algorithms, easy editing, auto-generated captions, and much more. We all have a lot of expectations for what the software can achieve in the future.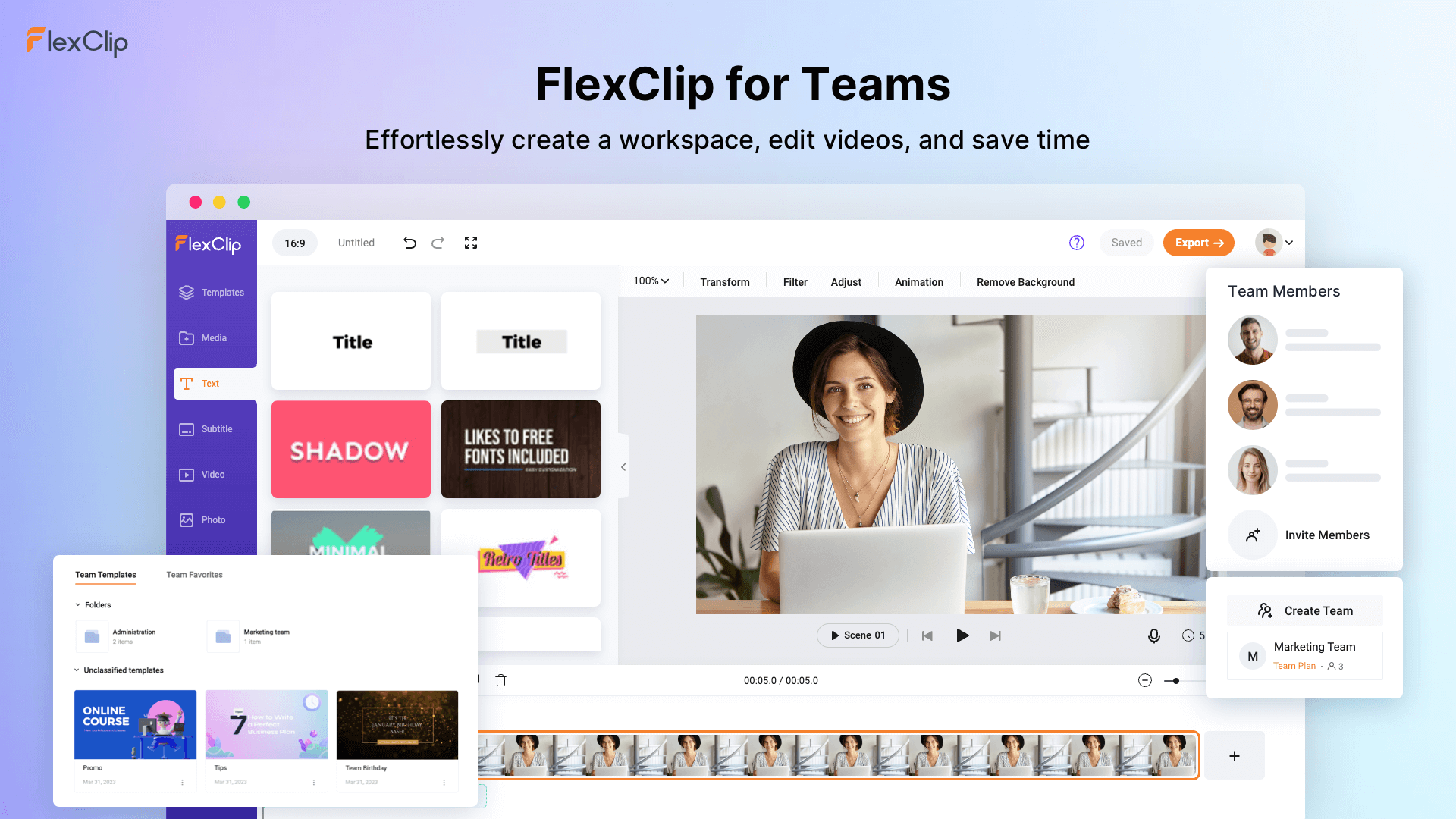 Trust FlexClip to make video-making more seamless and hassle-free for beginners. Even someone with non-existent expertise can make basic clips, slides, and presentations with its straightforward interface and easy-to-use features. 
Feature Highlights
Users with limited data space would be blown away by FlexClip's generous storage. The 500GB for hosting and 10GB for cloud storage are huge benefits that help you create hundreds – if not thousands – of short clips without compromising your computer!
With FlexClip, expect to perform basic editing (trimming, splitting, duplicating, or adding effects and music) in seconds; you only need to pick an effect/filter or option of your choice and drag it onto the draft. 
Its straightforward layout is a huge bonus; novices get an instant sense of each function and capability 5 minutes into their usage. 
Pros
Easy usage
Decent-quality videos with basic editing
60-day guarantee with a 2-month trial
Cheap lifetime deal
Cons
Lack of advanced editing options and filters
Certain functions (splitting, trimming) can be found in other apps at no cost.
Bottom Line
If you only need a quick solution for elementary video compilations, image shows, or presentations, then this software is the best choice. Just its spacious storage is enough to set it miles apart from other programs.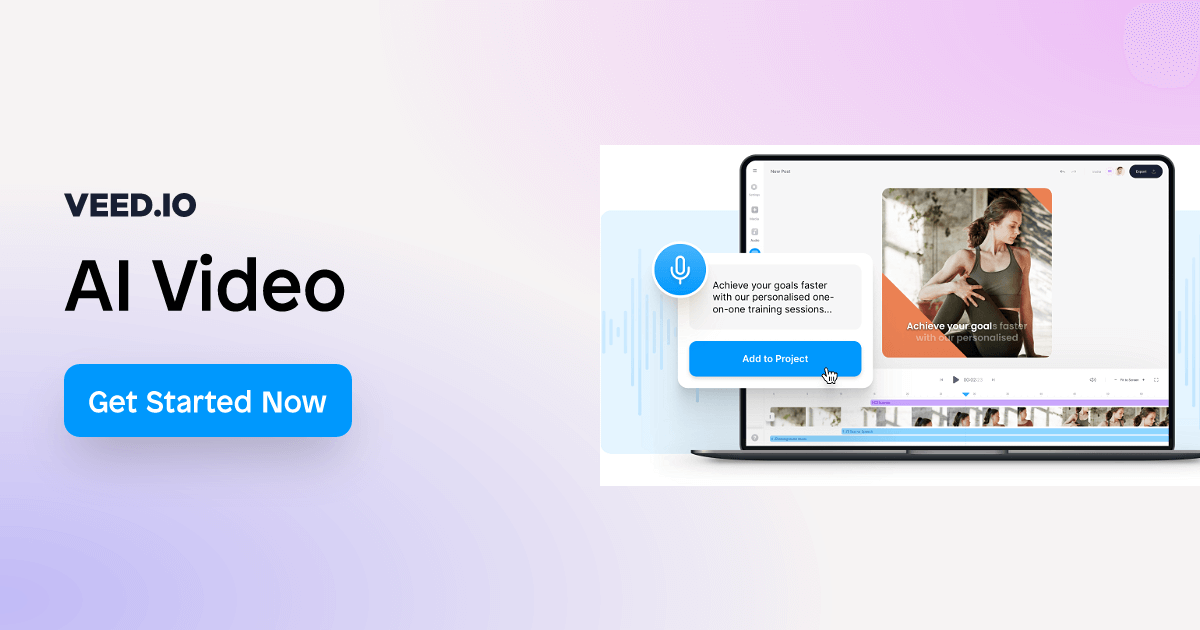 Despite not being around for very long, Veed quickly seizes people's hearts with its streamlined features and intuitive layout. The brand updates its effects, transitions, layers, and image stock every year, delighting users of all sectors and working industries. 
Feature Highlights
Veed not only caters to beginner editors; it takes tight-budget customers under its wing, too. 
At a starting price of $0, this software is a lifesaver for small start-ups, entrepreneurs, or even undergraduates struggling to balance their budgets. Although other upgraded plans definitely have more features, the free package is enough to last businesses for months.
Aside from the basic trimming and splitting functions found in most similar programs, Veed takes its game to a new level with the background remover. Just one click, and all relevant noises and background details will get cleared up instantly, giving your videos and images better visual/ audio focus. 
Pros
Affordable (free plan)
Removing background and background noises
Allowing users to add subtitles, translate, and transcribe video
Cons
Limited stock videos and images
Lagging issues
Cannot work on mobile phones
Bottom Line
With a free pricing plan, Veed surely has a lot to look forward to. It offers 30-minute subtitles, a maximum length of 10 minutes per video, and other basic editing features that would usually cost you a few pennies. So if budget savings are your priority, look no further than Veed. 
Magisto has no longer been a stranger to the content marketing realm, wowing editors with a vast template collection, streamlined editing, and AI-based scanning to manifest videos with unbeatable qualities. Better yet, as Magisto has officially become a part of Vimeo, customers can now enjoy tons of benefits from both brands. 
Feature Highlights
Magisto incorporates a collaboration mode, which allows file owners to invite other editors and assign editing roles for the same project. Providing feedback and comments for each section is also feasible, which helps team members negotiate, discuss, and improve real-time quality according to specific needs. 
Remote teams or international members from different time zones certainly appreciate this functionality.
The app integrates nicely with third-party platforms, too; a click on the "Share" button allows you to spread your work to millions of social media users in a second. 
We also appreciate the Magisto mobile apps on both Android and iPhone models, which create an easy-to-access working space anywhere. 
Pros
Collaboration mode allows multiple users to work on the same project
Preset templates and easy-to-use editing
AI scanning to automatically single out the best parts of the video
Cons
Occasional lagging on the mobile app
Text placement options are limited
Bottom Line
Multiple-member teams have found their ultimate solution in Magisto – thanks to its innovative and powerful collaboration mode. We also find it much easier to share completed videos through Magisto than through other editing tools. All in all, it's an amazing program that deserves all of its current popularity.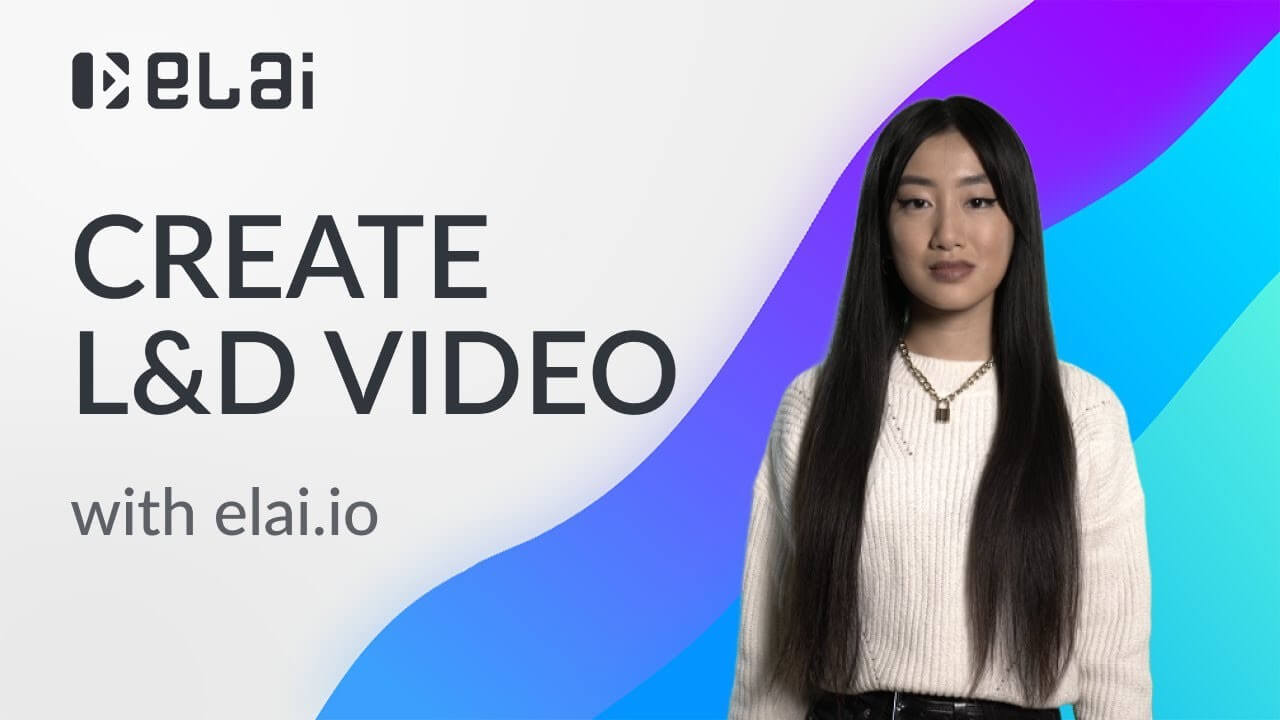 Modern AI tools like Elai understand how to integrate artificial intelligence for the most efficient and time-saving workflow. Elai masters AI-based algorithms, customization choices, and neck-breaking rendering speeds to help create bulk videos in a matter of minutes.
Feature Highlights
Elai has all it takes for beginners to generate bulks of videos (hundreds, even) without breaking a sweat. 
The program utilizes text-to-video mechanisms, customizations for 25+ preset AI avatars, and automatic translations to produce varied voiceover styles in different languages. Instead of hiring full-time generators to work non-stop, video-making processes only take a few hours of your day now. 
The detailed tutorials that arrive with Elai are a big bonus, walking users from the most basic steps (creating an account) to later stages. Its customer support team is always available and ready to answer all your concerns and questions for free. An irresistible offer, if you ask us! 
Pros
Bulk productions within minutes
Auto translation to create clips in different languages
25+ avatars (for all pricing plans)
Cons
The avatars look a bit small
Its voiceovers need more variations 
Bottom Line
Short, decent-quality clips produced after a few clicks are Elai's greatest strength. We cannot deny that Elai increases our productivity twofold. The affordable price only adds to its charm, making Elai a must-have tool for any ambitious marketer.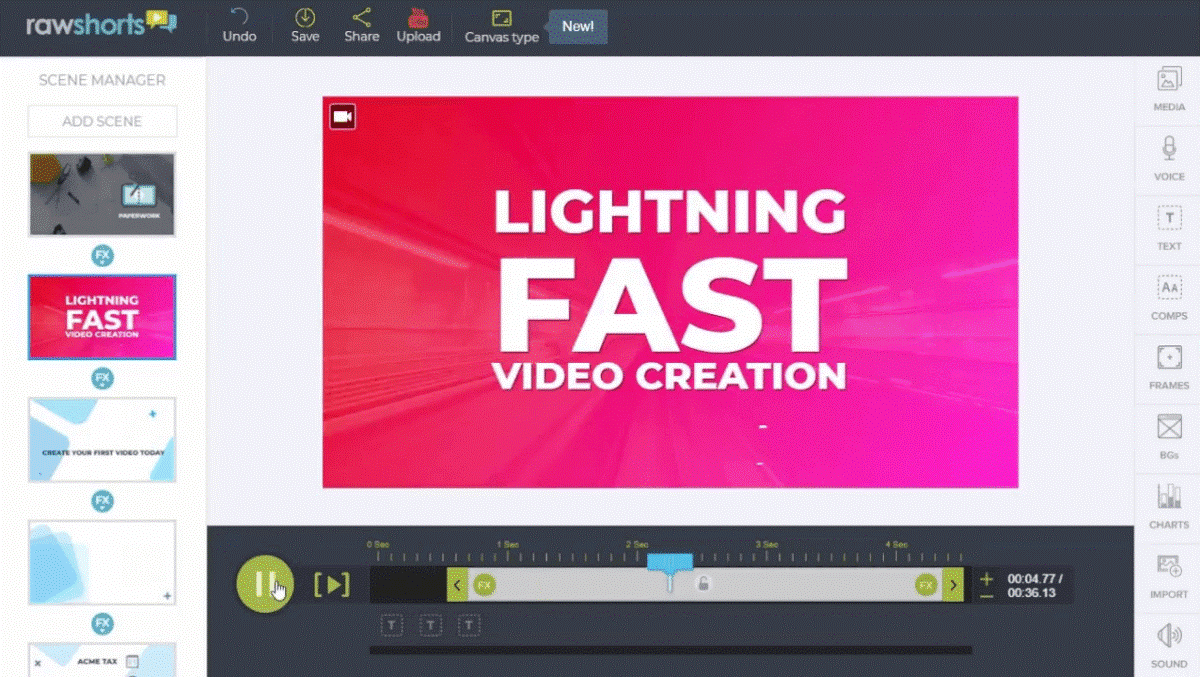 Text-to-video AI-based technologies are becoming the trend, and RawShorts is one of the latest participants. It relies on your text prompts to find matching assets and create visually-stimulating and informative presentations, which serve as the communication bridge between your brand and potential customers.
Feature Highlights
A good PowerPoint presentation requires eye-grabbing images, smooth transitions, comprehensible charts/graphs for data investigation, and other extra stimulating filters and effects. You can find all of those and more in RawShorts!
Better yet, all the stock images and icons used for RawShorts slides come with common creative licenses, rendering your presentations free of copyright issues even when publicly uploaded. 
Pros
All PowerPoint features (icons, free images, and  transitions) are present
Diverse industry templates
Easy sharing to Youtube and Facebook
Friendly interface
Cons
Some templates are not customizable
Lagging issues
It requires wifi to function
Bottom Line
Creating an informative and attention-grabbing presentation proves to be a huge challenge, which, thankfully, can be addressed by Rawshorts' abundant features and benefits. Despite its existing drawbacks, it will continue to be one of the most common AI video generators to date.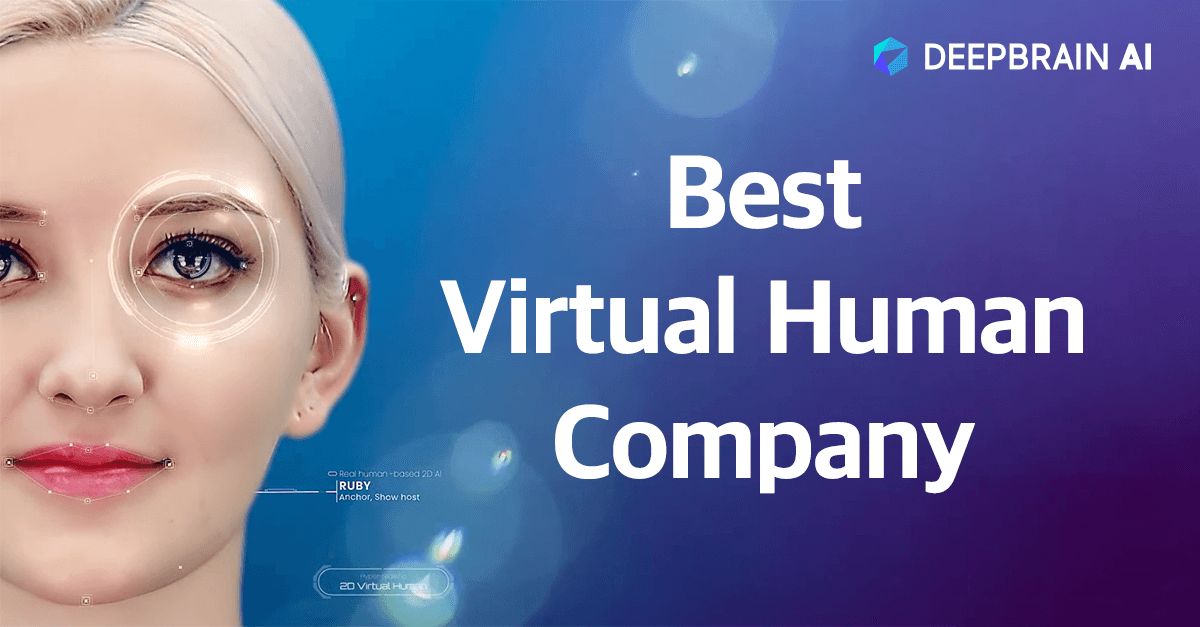 A full package with customizable avatars, voiceovers, and a text-to-video algorithm, Deep Brain is another non-skip name if you and your brand need a no-hassle video generator tool. Both 2D and 3D styles are available, giving customers ample choice to decide what works best for them.
Feature Highlights
Deep Brain has been a trusted ally for HR and employees during hiring seasons. 
With one scan through applicants' resumes, the software can generate instant interview videos that are both relevant and insightful. Instead of spending hours or even days scouring through CVs to single out the better applicants, you can save that time and effort on other, more urgent tasks.
The 25+ avatars can be further personalized and adjusted based on gender, skin color, and even occupation to align better with your visual needs. Furthermore, more than 80 languages are supported, ensuring customers of all countries and regions can find what they need with Deep Brain.
Pros
Scanning resumes to produce related interview questions
Supporting over 80 languages
Custom-made avatars
One-click subtitles
Cons
The audio quality sometimes needs improvement
The Pro plan is very expensive
Bottom Line
Deep Brain has a reputation for amazing resume scanning, text-to-video functions, and personalized avatars that work well with videos of all topics. Though certain complaints about the pricing are noted, we still deem it worth a shot. 
Conclusion
InVideo snatches the crown as our best AI video generator (you have to admit it, the 5000+ template library is unbeatable!). 
Nevertheless, the other nine options on our list also deserve a second look. Scour through them all to determine what suits you best, and write to us if you need more advice. 
Thank you for reading!