Our busy schedules and personal life intertwined, it is not easy to come up with something great by ourselves in short periods of time!
Fortunately, the best AI lyrics generator on the market promises to revolutionize your music composing. Keep scrolling through our six recommendations to learn why.
1. Best User Interface – Write Me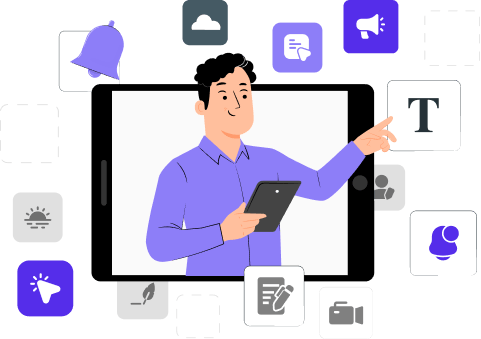 Write Me is an AI lyrics generator that uses GPT2 and GPT3 to advance the creative process for eager writers (song composers included).
Simply enter the topic's specifics and other relevant keywords, Write Me will send back in-depth, error-free, and unique content.
Feature highlight
Beginners or those loathing complex interfaces would squeal in delight with Write Me. Its user-friendly layout ensures you can get down to your songwriting as quickly as possible.
Write Me has received 56,000+ satisfaction reviews of customers from variety of fields such as marketing, copywriters, and businesses.
Once clicking "Take Me Straight to Writing", you will be directed to a new pop-up page with five options and blank boxes, waiting to be filled in under your creative flow:
Language: Is it English, Chinese, or any other language?
Tone: Choose between 22 options, ranging from Appreciative and Assertive to Urgent and Worried.
Use Cases: Since we are talking about music and lyrics, pick "Song Lyrics." Other options are poetry, video captioning, social media posts, etc.
Song Idea: Write anything that you believe will work for your song. Time to get wild with your ideas.
Click "Write Me" after you have filled in every option, and see how the magic unfolds. Simple and easy to navigate, it does not take less than 5 minutes for beginners to start familiarizing themselves with the platform.
Pros
Easy to use
Great results
Have a project storage room to save your work
Have different choices for the song's length (short article vs. long)
Cons
Users can only choose one tone at a time (ex: you cannot pick Appreciative and Candid simultaneously)
Bottom line
Write Me's straightforward user interface remains a competitive edge among busy, tight-scheduled songwriters. All options take only seconds to fill in while still churning out much better results than anything you could have expected. A must-try!
2. Best Diverse Input Choices – INK For All

Founded in 2017, INK aimed to foster better communication (specifically through writing) with their AI generator. The content is original, human-like, and adaptive, setting you and your work apart from the noise.
Feature highlight
Since it is songwriting that we are talking about, most people expect the input format to be 100% lyrics and words. INK for All challenges that norm by welcoming images and pictures as prompt sources as well.
Suppose a gorgeous Greek painting of the goddess Aphrodite has left a strong impression on you, put that painting in the prompt box and ask INK to give you poetical lyrics that praise her beauty.
Instead of spending hours trying to put your jumbled thoughts into words, just one picture is enough to do the job.
Pros
Working with both text and image input
Easy usage
Free trials before purchase
20+ language support
Cons
Expensive premium packages
Bottom line
At first glance, INK seems like a writing tool mostly tailored for regular content writing (articles, essays, etc.). But turns out the brand has done a much better job at songwriting than other same-sector products!
3. Best Vivid Descriptions – Sudo Write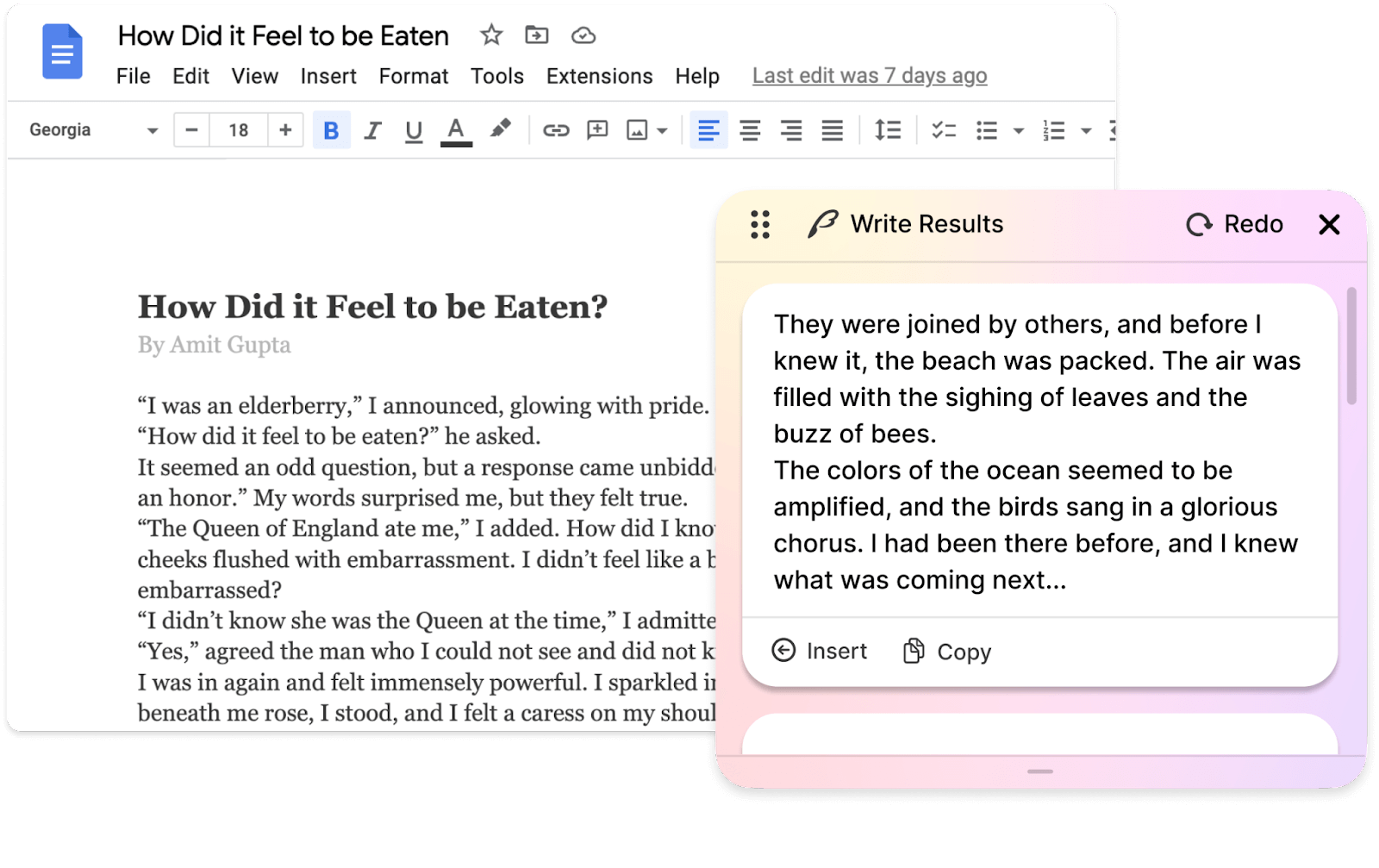 As an AI assistant, Sudo Write offers numerous brainstorming and set-up tools to help writers, poets, song composers, authors, etc., speed up their writing process.
Feature highlight
A catchy and emotionally impactful song (or any type of writing format) should be able to evoke and engage most of the human senses.
And that is something versatile apps like Sudo Write can help you with. Its "Describe" filter has six options that allow you to include/exclude detailed description involving:
Sight
Taste
Smell
Touch
Sound
Metaphor
On another note, if your song aims to tell a story with distinct characters and plot building, Sudo Write's "Brainstorm" section is the best place to generate your creative juices flowing.
Your mission is just fill in the character's name (if any), the story's background, and the messages you want to convey throughout the song.
Pros
Easy to use
Great story-telling and description
Free trials
Free classes for beginner writers
Cons
The "Rewrite" option occasionally churns out almost identical results to the original piece.
Bottom line
Sudo Write works great for writing pieces that need descriptive elements, such as stories, poems, and song lyrics. Its passionate, enthusiastic user community and live class also offer amazing writing tips, making sure you are not alone on your journey.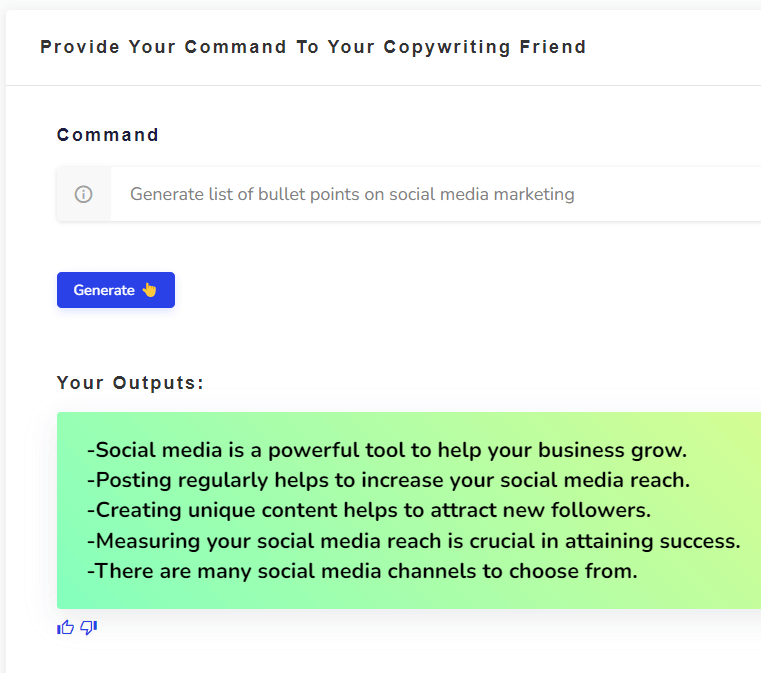 Lyrics generator is a part of the Write Cream's toolset library, which enables songwriters of all genres (from ballads to hip-hop) to produce lyrics in record time.
Feature highlights
Tired of having to input the same prompt over and over anytime you open your computer? Let Write Cream's custom tools put those tedious tasks to rest.
Click "Create Your Own Tool" and trace along with the rest of our guidelines:
Give the tool a name (ex: Songwriting generator for love songs)
Enter the context: Explain briefly what you expect the tool to accomplish
Enter examples of great input and output: Suppose you are a die-hard fan of Taylor Swift's country-music era and wish to produce lyrics with similar depth and resonance. Put Swift's verses into the example to show Write Cream how it should be done.
And that is it. Anytime you are in the mood for a country love song, simply visit the tool and let it take care of the rest. As the prompts and output examples are already automated, you do not have to enter them a second time.
Pros
Custom tools that automate the brainstorming process
Free trials
Cater to different music genres
Cons
The verses might not be 100% unique
Some beginners might take time to navigate the interface
Bottom line
Write Cream's customized tool is unbeatable when it comes to time-saving performance. While the lyrics' originality might need checking from time to time, it still serves as a wonderful assistant in your creative endeavors at the end of the day.
5. Best For Audio Output – Cohesive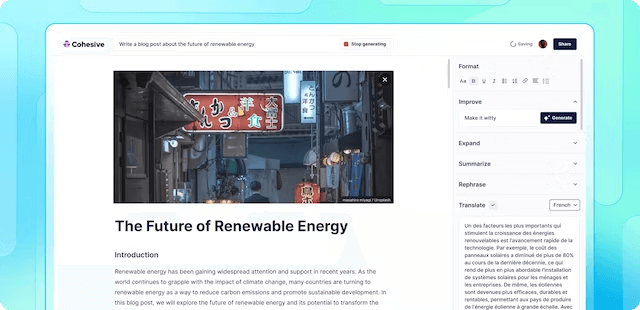 Cohesive uses artificial intelligence based algorithms to help beginners generate and write many song genres, cold emails, captions, stories, etc., that hook readers from the very first line.
For those who do not know how to craft great lyrics for better output, Cohesive creates templates that can be a good starting place.
Feature highlights
Song lyrics can be composed separately from the rest of the song, Cohesive AI voices will test verses and test them on different rhythms/ beats would be terrific.
And sure, Cohesive AI voices might not sound as natural as ours, but they can still prove practical. Once you finish generating the lyrics based on the input prompts, feel free to have those lyrics read out by choosing from a set of Cohesive's male/female AI voices.
You may even adjust the reading speed (from 0.5x to 2x) and the best part of it all is to put those readings in another music-making software to test how they go with the beat.
Pros
Diverse AI voices and speeds to read out the words
Pre-made templates for first-time prompters
Easy usage
Cons
Few customization/optimization choices
Bottom line
Gone are the days you have to find someone to help you with the recording or even do it on your own. Cohesive offers crystal-clear audio recordings in seconds, saving both time and effort.
6. Best for Lyrics Website Rankings – AISEO

As its name suggests, AISEO aims to help you produce SEO copies in minutes. 50,000+ authors, songwriters, and content creators of over 25 different languages have received rave support from the platform thus far.
Feature highlights
Lyrics websites have become increasingly popular in recent years, led by some successful cases like Genius, AZLyrics, Lyricscom, and so on.
To get yours to rank high on Google's search page, you should definitely turn to SEO, all the more reason platforms like AISEO are worth considering.
Add a keyword with high search volumes into the box and let AISEO's lyrics generator handle the rest. If you are not even sure what keyword would be best for website ranking, AISEO's "Suggested Keywords" section can be your lifesaver.
Pros
SEO-oriented
Fast results
Cheap
Great customer support
Cons
Some lyrics are a bit repetitive
Bottom line
All content formats need SEO to rank high; musical lyrics do not stand out from that trend. With AISEO's smart optimization system and lightning-speed lyrics generation, your website will be propelled to the top faster than you think.
Conclusion
Our 10 best AI lyrics generator has slowly found its way into mainstream composing processes thanks to diverse training data, high-speed generation, and impressive catering to all topics and music genres.
Not to say they can turn you into the best musicians of all time since your own effort and creativity are still required. But don't worry! These song lyrics generator tools can definitely save you lots of time to create a great composition.
What are considered good lyrics?

Songs with great lyrics can express ideas and emotions in ways that make listeners empathize and resonate with them. They should also be unique/original and easy to remember.

Can I use songs written by AI?

The matter is still in debate. Many argue that AI-generated songs clearly violate copyright laws since they are created based on preexisting works. Others claim they already bought the tool for the AI platforms and hence, deserve full rights to their creations.

Will AI replace songwriters?

Never. AI generators lack the creativity and human emotions required in a great artist and musician. Still, they can serve as a great assistant in your brainstorming process.

What are the cons of AI music?

AI music has no originality and creativity, given that the algorithms are purely trained on existing knowledge. Plus, there are still heated debates about their legality and copyrights.
Related posts: