Videos have been all the rage in content marketing, whose stimulating visuals and vibrant colors have been proven to attract more leads than traditional text-on-white content. 
However, not all marketers are experts in this regard, which is why AI-based editing tools like Magisto have raved in popularity.
For those wondering what Magisto entails, our Magisto reviews will shed light on the matter. Keep scrolling for more! 
Overview: What Is Magisto?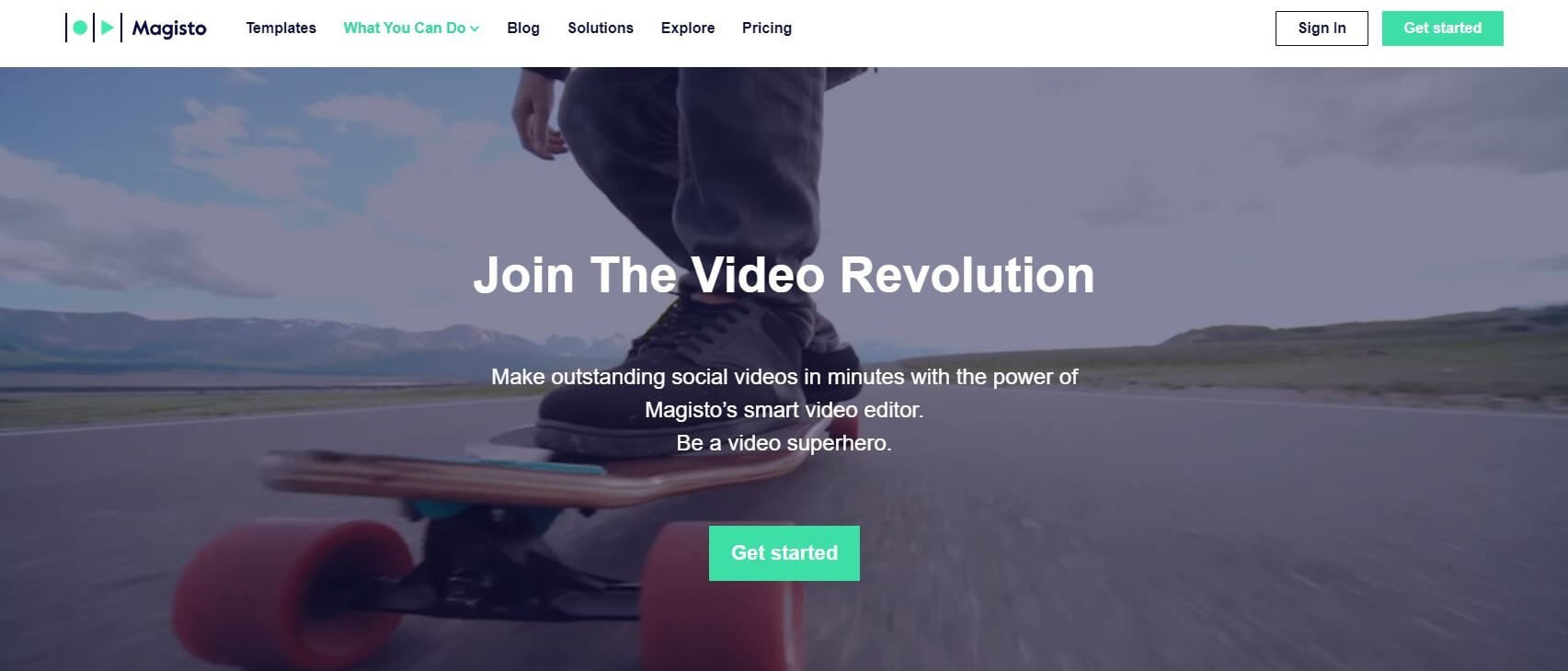 Lauded as among the most reputable editing tools on the market, Magisto used cloud-based software and AI (artificial intelligence) to help users streamline their video-editing procedures. 
Aside from basic clip features, Magisto allows further additions of captions, filters, effects, music, and more to make professional-looking clips. Its AI-based algorithms then scan the video to single out the best-looking parts, compiling them into the finished version. 
Due to this convenient yet innovative design, Magisto has become a household name among content creator communities, thriving in personal videos (event recaps, family memories), social media videos, and marketing promotion clips. 
Read more: Lumen5 Reviews
What Are The Main Features Of Magisto Reviews?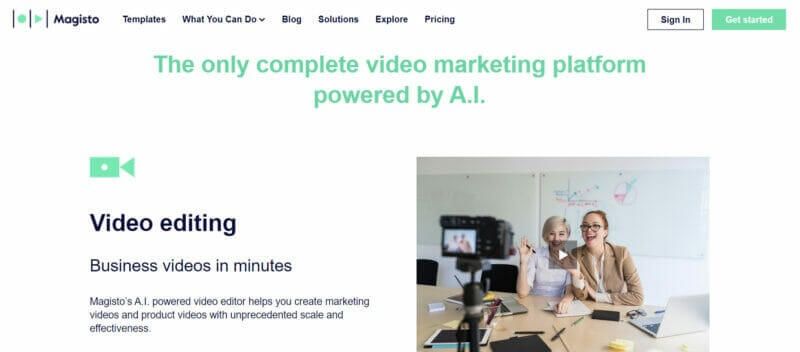 In general, this software grants you a huge collection of templates with a collaboration mode available. The editing process is also straightforward with great mobile compatibility.
Diverse Templates
One of Magisto's strongest selling points is the diverse templates designed to work with multiple styles. They aim to deliver the best-looking videos without users exerting much effort – a great catering to complete new beginners. 
A scour through its library will reveal you to all types of themes, such as business, sports, travel, weddings, birthdays, and more. Each arrives with pre-designed filters, layouts, and even text options, which novices can customize in a blink to fit their design preferences. 
Even aspect ratios are personalizable; horizontal, vertical, or square; choose one that best fits your intended social platform. 
What impresses us most with these templates is how they align with the latest marketing trends. Vibrant colors, smart image ratio, and optimized layouts are sure to catch attention, keeping your viewers engaged from beginning to end. 
Read more: AI Video Vs Traditional Video
Easy Editing
As mentioned, their friendly designs and layouts are a clear love call to beginners with zero background experience, simplifying the editing process to help them save time and effort. 
Our highlight is Magisto's incorporation of AI technology. Once activated, it will scan the clip automatically to assess:
The best part of your videos
The main character and objects
Voice quality
Image quality
Once done, it will apply automatic adjustments (enhancing image and voice, highlighting the main objects, etc.) to give you a complete version of the draft. 
Of course, users still have a say in the editing procedure. The tool gives them ample choices to choose the right text, music, and filters for a more engaging and cohesive final product. 
The drag/drop functionality is the cherry and top, letting users arrange and add photos/video content to the timeline in seconds. 
Better yet, Magisto can integrate seamlessly with other platforms, with a direct share button to let you share your finished clips on Youtube, Instagram, and Facebook. Your hard work will reach the world quicker and more efficiently, promising to expand the brand's visibility to a new level. 
Collaboration Tool
Another beloved feature of Magistos is its collaboration mode, which enables multiple users or team members to work together on the same project. Remote working teams or international corporations would benefit the most from this special tool.
More specifically, Magisto's collaboration features support: 
Inviting others to edit specific projects
Setting permissions and access
Assigning roles to each editor (ex: ensuring only a particular person has access to his assigned part). 
To further streamline the process, Magistos offers real-time notifications and updates to keep everyone on board with all video adjustments made by others. That way, the software ensures everyone only works on the latest project versions, keeping confusion and unnecessary misunderstanding at bay.
Moreover, users can share comments and feedback on specific project sections, making it easier to supervise, discuss, negotiate, and improve the video's quality.
Mobile Compatibility
While most video editors either work with laptops or mobile phones, Magistos steps up the game by incorporating both. The editing tool is available for both Android and iOS devices, covering all fundamental features from their desktop version.
Just like with the computer version, Magistos mobile apps allow users to:
Edit and create videos
Arrange and add photos/video content through a user-friendly and intuitive interface.
Customize their clips with voiceovers, music, captions, and text overlays that enhance the overall impact.
Smooth integration with Youtube, Instagram, and Facebook 
The flexible file formats are a huge bonus, further fostering no-hassle file importation between computers and mobile devices. 
How About Other Factors Of Magisto?
Besides the highlight features of Magisto, other factors are also crucial for users, who are going to use this software for their videos. Scroll down to read these criteria:
User Object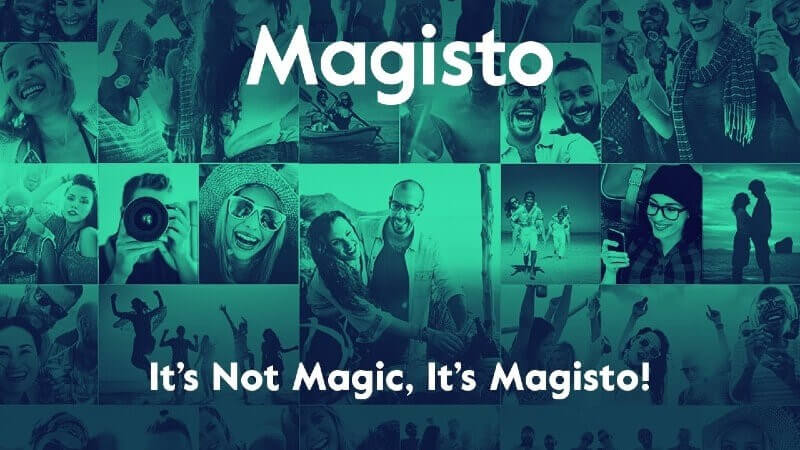 Anyone with dire needs for video content will find Magisto a delight – especially those without prior editing experience. These people can be:
Business owners with limited budgets
Instagrammers or TikTok influencers
Content creators
Event planners 
Pricing
Magistos offers three plans with different pricings and benefits:
Premium: 4.99$/month
10-min lengths
Unlimited downloads
Professional: 9.99$/month
All Premium features
3 million HD iStock photos and clips
Customized fonts and brand colors
Background music (Commercially licensed)
HD downloads
Business: 34.99$/month
All Professional features
25 million images
Email marketing tool
Video embedding 
Video exportation for Facebook Ads
Video analytics
Customer support
Pros And Cons
Here is a quick rundown of Magisto's upsides and drawbacks:
Pros
Easy editing
Diverse templates and music library
Compatible with mobile phones
Streamlined collaboration tool
Automatic, integrated AI scanning
Cons
Expensive pricing, particularly for business plan
Occasional lagging on the mobile app
Comparisons
To put things in perspective, we pitch Magistos against Animoto and VEED and compare some major features: 
| | | | |
| --- | --- | --- | --- |
| | Magisto | Animoto | VEED |
| 3D Editing | Yes | No | Yes |
| Brand Overlay | Yes | Yes | Yes |
| Collaboration | Yes | Yes | Yes |
| Text Overlay | Yes | Yes | Yes |
| Video Capture | Yes | No | No |
| Speed Controller | Yes | Yes | Yes |
Magistos integrates video capture (allowing users to record direct video footage within the software and app), a feature lacking in the other two. But aside from that, the three are quite on par with each other. 
Magisto is an amazing AI-based video editor, whose diverse templates, easy usage, and streamlined exportation process have cut off tons of workload for novice marketers. 
However, for a tool aimed at beginners (not experts), charging 34.99$ per month seems quite a stretch. If the pricing lowered slightly, Magistos would score a perfect ten out of ten.
Ratings: 8/10
Conclusion
Our Magisto reviews have hopefully cleared your lingering concerns and reservations about its efficiency. 
Although debates still ensue regarding its pricing, the software has done a terrific job streamlining the workflow for editors, making it one of the best AI-based video tools on the marketplace. 
So, try it to have the best reality experiences.
Thank you for reading!
How long of a video can you make on Magisto?

A Magisto-based video lasts for 10 minutes (maximum). This video length applies to all three Magistos pricing plans.

How can I share my Magisto video on Instagram?

Hit Profile, then tap the clip you want to share. Press "Share" (the icon underneath the clip) and hit the Insta icon. And that's how you share your video on Instagram. Since Insta videos have a 1-minute limit, remember to trim your Magisto clip first if necessary.

Can I create 3D animation with Magisto?

Yes. Like some of its competitors (Animoto and VEED), Magistos does have templates and editing features to generate 3D animated clips within minutes.