Murf AI is now becoming a handy tool for many individuals and businesses. Why?
Instead of sitting with your eyes strained to read the text, Murf AI is a great partner to convert the text into speech in the most accurate and realistic way.
Let's learn everything about this tool together through our Murf AI reviews to make your work and daily life more simple and more productive!
What Is Murf AI?
Murf AI is a platform based on the cloud that allows users to produce realistic text-to-speech voiceovers for their content (audio podcasts, audiobooks, YouTube videos, advertising campaigns, e-learning materials, lectures, and so on) by artificial intelligence.
As you know, traditional voiceover production is a labor-intensive, and complex process. You will have to do many tasks from employing a voice actor to preparing a script, recording, video editing, making music, adding effects, etc.
With Murf, you can streamline this cumbersome procedure to lower costs, and shorten the production time.
Murf functions as a one-stop shop where content producers. Besides quickly turning the script into audio within minutes, users can add photos, music, and videos to their voice-over and sync them all in one project.
How Does Murf AI Work?
Murf AI platform uses deep machine learning and AI technologies to generate a human-like voiceover from the text you provide in a variety of voice options.
Once you input your text, you can select the desired voice from the library. You are free to modify the tones and adjust their pitch and speed if needed.
Besides, you can also upload your own sound video and then utilize the voice changer to give it a more professional effect. But you need to buy the pro version or higher to accomplish it.
Alright! The next parts will show you a more in-depth Murf AI review with pros and cons.
Read more: Speechify Vs Murf
Murf AI reviews: What Are Murf AI's Benefits?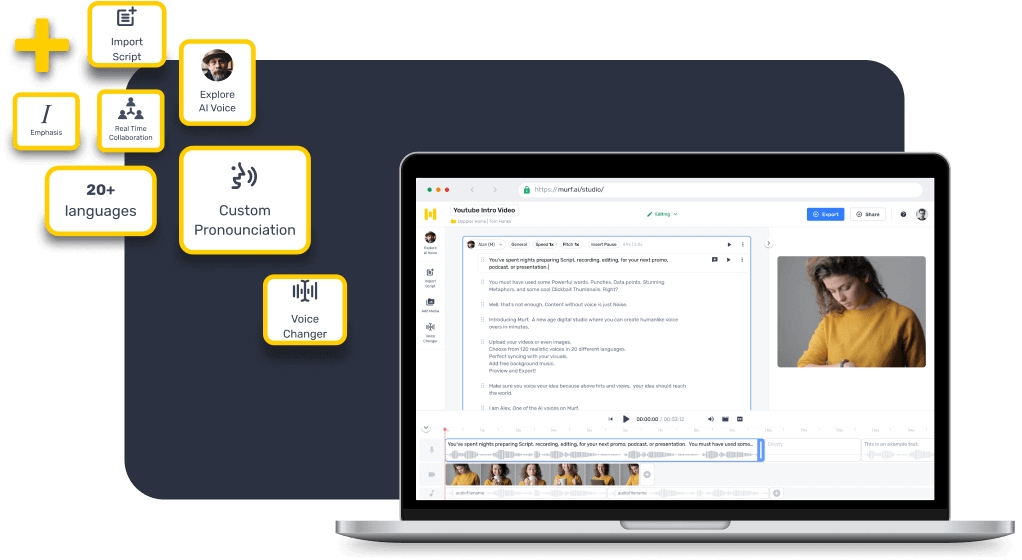 When it comes to Murf AI reviews, we have to mention its advantages since many users give good feedback about their pleasant experiences with this tool. What are they?
Ease of use
The user interface of Murf AI has constantly been reviewed as being user-friendly and straightforward, allowing users to do tasks quickly and effectively.
Indeed, Murf Studio is designed with unique features that make creating and editing voiceovers easy. This guarantees that everyone can benefit from the platform, regardless of their technical level of voiceover experience.
Read more: Speechify Reviews
Diverse AI voice options
You'll get a voice library with excellent quality. There are 120+ voices with 20+ languages available for people of all ages that help you free to choose. Moreover, you can adjust the audio by changing the voice, pitch, pronunciation, and other aspects.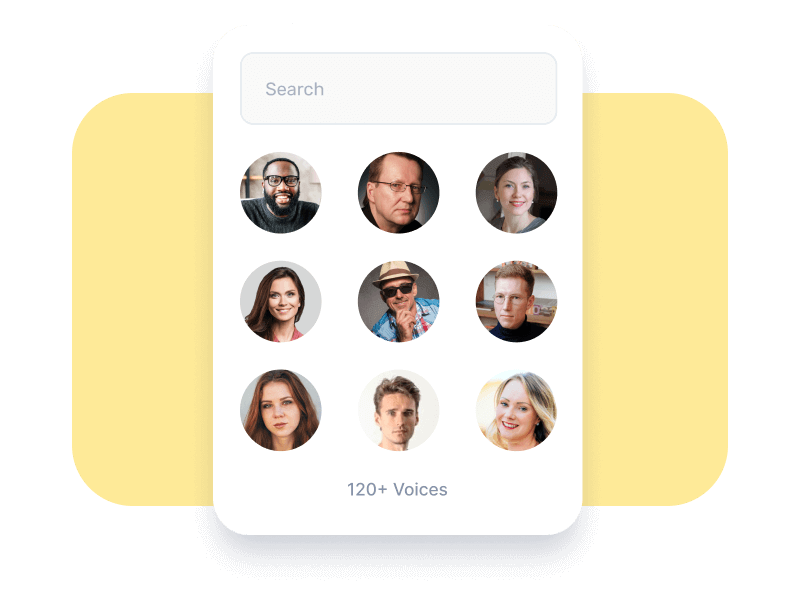 What's more? You can create more lifelike audio by selecting a suitable dialect. Therefore, you can change someone's voice here to sound, for example, younger or older.
The built-in pitch shift and speed adjustments allow you to convert high feminine vocals into low male voices and vice versa.
Extra effects
To create a high-quality video with natural sound, we also need to include a number of effects that can also be used to change the sound quality, including reverberation, phasing, flanging, chorusing, etc.
Read more: LOVO Reviews
Good data security
Murf Studio takes pride in its robust data safety and security measures. All data is hosted on secure servers, and access control is secured by 2FA (two-factor authentication).
It is kept in Amazon web services, a facility that complies with all laws governing data security and privacy, including GDPR, PCI, DSS, and so on.
The software ensures that all data running through its worldwide network of data centers is automatically encrypted before leaving the secure facilities, keeping your data secure both while it is at rest and while it is in transport.
Murf AI reviews: What Are Murf AI's Drawbacks?
Besides the great benefits, this text-to-speech voice platform also has some drawbacks for users to consider:
High price
Premium subscriptions are perfect for businesses that often produce voiceover content, but they could be expensive for individuals. The trial package may be more appropriate for people who prefer a more friendly-budget version.
Not 100% accurately transcribing the content
One of the disadvantages of Murf AI is that it might not always precisely translate the text with lots of background noise or several simultaneous speakers.
Although the service is normally quite accurate, it could have trouble with particular audio or video files.
How Much Does Murf AI Cost?
Murf AI has 4 plans with the pricing for different target audiences as follows:
Free trial version of the software
Only one user is permitted to use the account.
Elementary: $228 per year
The account only permits one user.
The cost of the basic edition is now $19, or $228 if paid annually. When you pay annually as opposed to monthly, all options are less expensive.
Professionals (Pro): $312 per year
You can use all of Murf's AI voices in any of the 20+ different languages for $26 per month ($312 billed annually).
Corporation (For Organizations): $3540 per year
You must pay $59 per user every month ($3540 invoiced annually) for this whole Murf account.
Who Should Use Murf AI?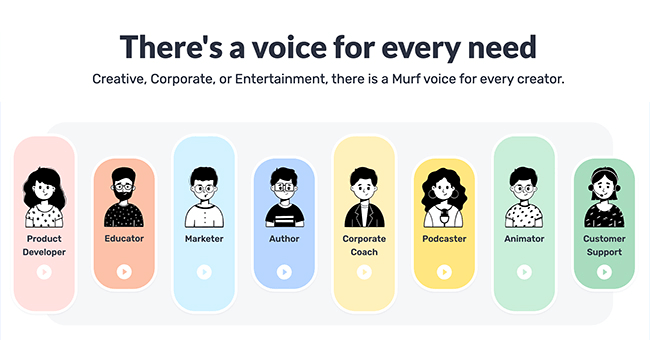 To round off our Murf AI reviews, let's look at who may gain from Murf AI.
Murf AI is an essential tool for corporations, SMEs, enterprises, and individual content producers.
The platform is great for content producers across a wide range of fields, including L&Ds, creators, podcasters, educators, animators, product developers, YouTubers, freelancers, and corporate trainers.
Murf is a fantastic tool for individuals using eLearning in their teaching methods due to its sound quality, custom voices, and the capacity to enhance recorded voiceovers.
You can create your material sound professionally whether you use the speech generator or the speech changer.
Murf's voice generation allows content producers to create natural voiceovers even if they choose not to speak in their videos.
Conversely, voiceover artists don't need to rely on expensive tools to fine-tune their voices if they enjoy narrating their work. Murf's voice changer allows them to adjust their voice to sound more influential.
Companies frequently hire voice actors on a freelance basis for their marketing strategies. Thank to Murf AI, they can now cut costs instead of paying actors with a lot of related tasks behind them.
Lectures, commercials, and automated customer support responses all benefit greatly from Murf's voice production.
Conclusion
After reading our above Murf AI reviews, are you ready to test out this tool? Don't hesitate to utilize Murf AI for more productive and effective work.
We hope that our reviews will give you useful knowledge to give a smart choice in work.
Is Murf safe to use?

Yes. Murf access control is protected with 2FA (two-factor authentication) and all data is stored on secure servers that comply with all data privacy and security regulations.

Is Murf AI free?

Correct. Murf AI offers a free trial version for all users to try out some key features before considering whether they should continue with the next paid plans.

Is Murf worth it?

Yes. Murf AI is regarded by many as the best AI voiceover software. It comes with a ton of powerful features making it one of the most cost-efficient tools ever. However, you should carefully consider your needs to choose a suitable subscription.