Synthesia is a video generation platform that uses artificial intelligence (AI) to create realistic videos of avatars speaking different languages. Since its inception, the software has gained popularity for its innovative technology, ease of use, and ability to generate high-quality clips quickly. Here are our complete Synthesia reviews.
Overview Of Synthesia
It is an AI-powered video generation platform that allows users to create realistic people who can speak multiple languages with several facial expressions in the video.
The platform uses machine learning algorithms and natural language processing to automatically generate content that can be used for various purposes, such as marketing, training, and education.
Its AI technology analyzes the audio and creates a corresponding video of a person speaking, with the ability to modify the facial expressions, gestures, and other attributes to match the desired tone and style.
This allows users to create highly engaging and personalized content cost-effectively and saves time compared to traditional content production.
What Are The Main Features Of Synthesia?
Here are the highlights of this video-creating tool, that makes it stand out from the crowd:
AI Avatar
The AI Avatar feature allows users to create a realistic-looking avatar that can speak many types of languages with different facial expressions. You can customize the avatar's appearance, including the hairstyle, clothing, and skin tone, to go well with your content.
Users' avatars can also be animated to create a more engaging and dynamic experience. With this feature, users can create more personalized and engaging clips while saving time and resources compared to traditional ones.
AI Voice
This feature uses natural language processing to create a realistic-sounding voiceover well-suited for your clips. Users can choose from many languages and accents, making it easy to approach global audiences.
It can also be customized to match the avatar's appearance and facial expressions, creating a more immersive experience. With AI voice, users can quickly and easily produce high-quality voiceovers without expensive recording equipment or professional voice talent.
Read more: Pictory Vs Synthesia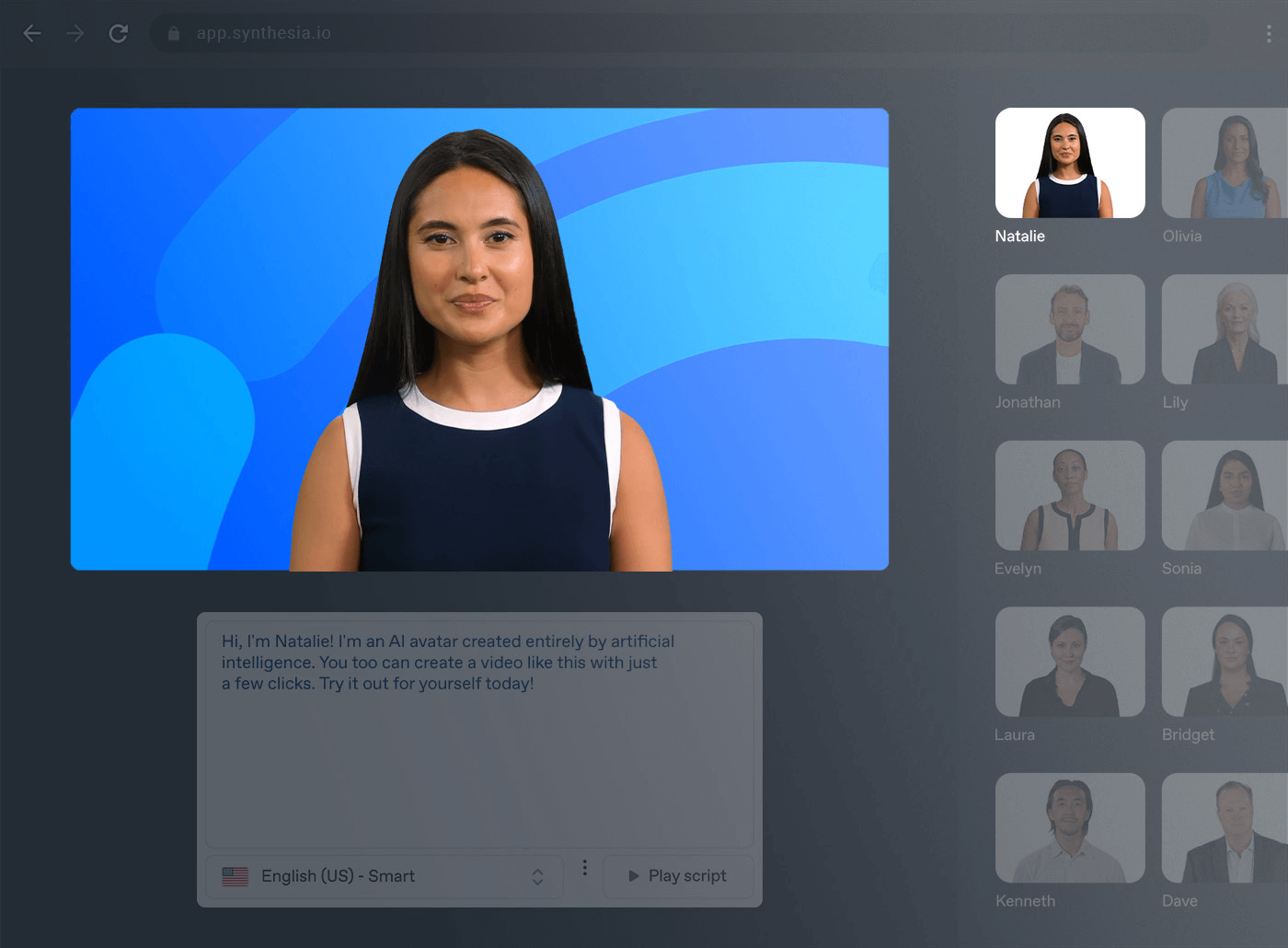 Template
Its templates feature offers a range of pre-designed templates that users can customize to come up with their own footage effortlessly. The templates come in many different styles and themes, making it easy to produce clips for a wide range of purposes, including marketing, training, and education.
You can adjust the text, images, and other elements of the templates to match your brand or message and use the AI avatar and AI voice features to give out a personalized and realistic video. With templates, making professional-looking videos becomes more simple without the need for extensive skills.
How About Other Factors Of Synthesia?
After analyzing this wonderful software's primary features, customers are interested in additional factors like costs, benefits, and downsides, or even comparisons to its competition. Look at them down below!
User Object
Businesses: Companies of all sizes can use Synthesia to create marketing or explainer videos, product demos, and more. With the ability to generate clips quickly and easily, businesses can save time and resources compared to traditional methods.
Educational Institutions: Schools, universities, and other institutions can take advantage of this platform to create instructional videos, training materials, and course content. With multiple languages available, educational institutions can reach global students with their content.
Content Creators: Bloggers, YouTubers, and other content creators can use it to give birth to engaging videos that complement their written content.
Pricing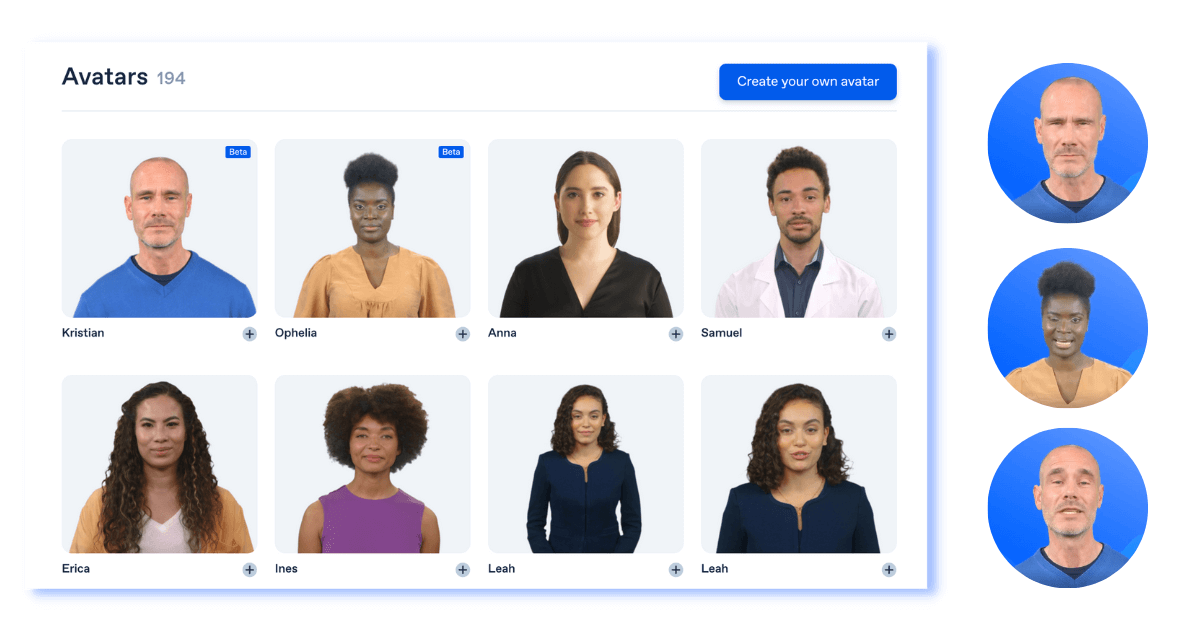 Regarding the prices, this AI program is quite affordable with three different plans for you to select.
Free trial plan: It offers a free trial plan that allows users to create and preview videos up to 30 seconds long. This plan includes one avatar per video and adds a Synthesia watermark to the final product. However, it's a great way to try out the platform and get a feel for its features and capabilities.
Personal Plan: The personal plan costs $30 per month. It allows you to remove the watermark and access to more avatars and unlimited downloads. The tool also offers 120+ languages and accents to choose from, making it accessible to users worldwide.
Corporate Plan: The corporate plan is customized to the specific needs of the user and priced accordingly. It covers everything in the professional plan and adds features such as custom avatars, unlimited length, and dedicated support.
Pros And Cons
While the review comes with many benefits, there are also some potential drawbacks. Here are some of the pros and cons of using this tool.
Pros
Customization: The tool enables users to customize the avatar's appearance, voice, and facial expressions to suit the video's style.
Time and Cost Savings: Users can produce high-quality clips without the need for expensive equipment or professional talent.
Multiple Languages: You can make videos in several languages, making it easy to reach a global audience.
High-Quality Output: The AI technology creates videos that look and sound realistic, providing a high-quality output that can be used for different purposes.
Templates: It offers a range of pre-designed templates that users can customize to make professional-looking videos quickly and easily.
Cons
Limited Avatar Expressions: While users can customize the avatar's facial expressions, the range of expressions is still limited compared to using real actors.
Artificial Sounding Voice: The AI voice technology has improved significantly in recent years, but the voice may still sound artificial or robotic to some listeners.
Limited Gestures: The AI technology can generate some basic gestures, but the range of motions is still limited.
Comparisons To Other Tools
Besides this powerful tool, there are other options available in the market. Let's take a closer look at how Synthesia compares to other programs!
| | | | | |
| --- | --- | --- | --- | --- |
| Feature | Synthesia | HeyGen | Lumen5 | Movio |
| AI avatar | Yes | Yes | No | No |
| Multi-language | Yes | No | Yes | Yes |
| Screen recording | Yes | Yes | No | No |
| Template library | Yes | No | Yes | No |
Based on the features of Synthesia, it can be considered a top-rated AI video generation tool. It can generate realistic videos with customizable avatars and AI-generated voices, coupled with its intuitive interface and various pricing plans. Although it comes with some limitations, it is still worth the try.
Rating: 9/10
Conclusion
It's clear from the Synthesia reviews that the platform is an innovative and effective way to create engaging video content quickly and easily.
With its AI technology and user-friendly interface, it's no wonder that so many users have turned to this tool for their video production needs.
Whether you're a business owner, marketer, or content creator, it is definitely worth considering for your next project.
Thank you for reading!
Is Synthesia free to use?

The tool offers both free and paid plans. The free plan lets users make and preview videos, but the final product will have a watermark and can only be used for non-commercial purposes. Additionally, users are limited to a maximum video length of 30 seconds and are restricted to using only one avatar per video.

Does Synthesia use real people?

Yes. Each avatar is modeled after the mouth and face of a real person, frequently an employee from Synthesia or a paid actor/actress.

What is the video limit on Synthesia?

The video limit depends on the pricing plan, with a maximum video length of 30 seconds for the free plan and up to 60 minutes for the corporate one.