Speechify and Listnr are prominent text-to-speech applications offering convenient solutions for converting text into audio.
In this Speechify vs Listnr comparison, we will leak for you the features and functionalities of each platform.
This information will help you make a decision based on your specific requirements.
What Is Speechify?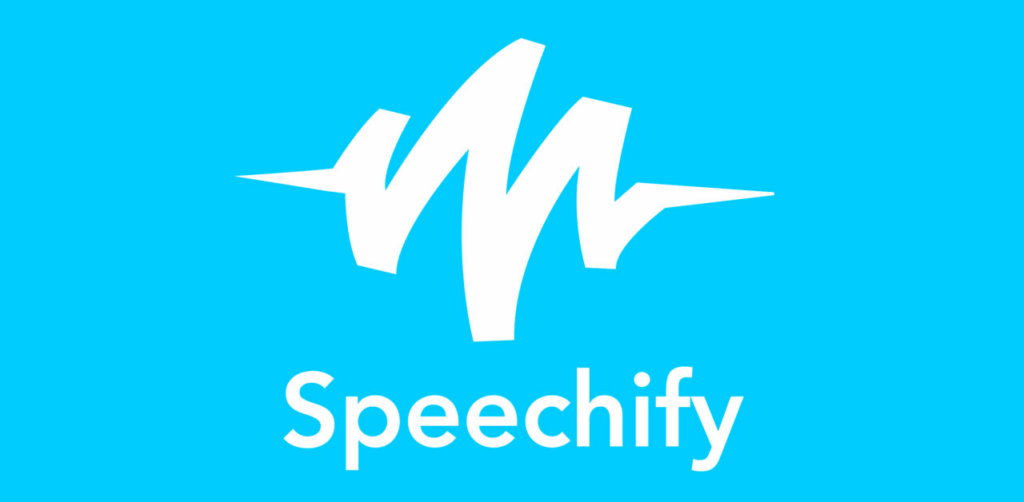 Speechify is a text-to-speech (TTS) software or application that converts written text into speech voice.
Using natural sounding voices of AI tool, it is designed to assist individuals in listening to digital content, such as articles, books, or documents.
Speechify offers various features, including customization options, speed adjustments, and device compatibility.
What Is Listnr?
Listnr is also a text-to-speech (TTS) platform that converts written text into audio. It allows users to listen to articles, blog posts, or other written content using AI-generated voices.
Listnr offers a user-friendly interface and supports many languages, allowing for a versatile and accessible listening experience.
The platform also includes features like voice customization, speed control, and integration with various applications and devices.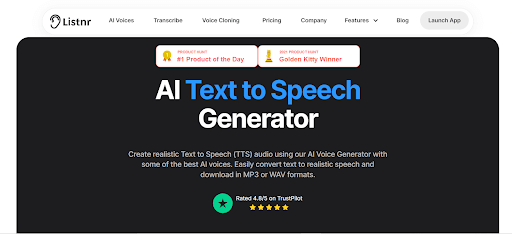 Speechify Vs Listnr: The Comparison
When comparing Speechify and Listnr, there are several common factors to consider that can help determine which platform aligns best with your qualifications. Let's discover!
Main features
First, Speechify offers features like highlighting text as it's read aloud, allowing users to follow along visually while listening.
Also, it provides features for adjusting the reading speed and voice options. All functions give users more control over their listening experience.
Meanwhile, Listnr focuses on voice customization and control. It lets you fine-tune the generated voice by adjusting pitch, speed, and emphasis parameters.
Furthermore, the app brings up a range of voice options, providing flexibility in selecting a voice that suits your preferences.
Accuracy
Speechify and Listnr both strive to provide high accuracy in their voice synthesis. They use advanced algorithms to ensure the generated voices sound natural and intelligible.
However, the accuracy may vary depending on aspects, including the diversity and quality of the training data used by each platform.
To determine the accuracy of Speechify vs Listnr, it is recommended to try out their services and listen to the generated voices. Remember to consider aspects like pronunciation, intonation, and overall clarity.
Read more: Speechify Vs Murf
Ease of use
Regarding ease of use, both Speechify and Listnr focus on simplicity and provide intuitive navigation. This makes it simpler and saves time for users to input text and generate the desired voice output.
The two prioritize easy interfaces and streamlined workflows.
Hence, you can expect a direct and intuitive experience and do not waste time when using these platforms to convert text to speech for AI generators.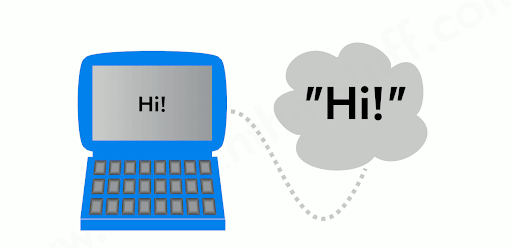 Pricing
Speechify offers a range of plans, including a free version with limited features and premium plans with extra benefits.
The pricing is based on subscription tiers and may vary depending on the desired features and usage.
Listnr follows a pay-as-you-go model, where users pay for the specific services they employ, such as the number of characters converted or the duration of audio generated.
Overall, the pricing structure of Listnr may give flexibility to users with varying needs and usage patterns.
Integration
Speechify includes seamless integration with popular operating systems and software platforms. This ensures easy access and usability across many devices.
Furthermore, it provides interfaces with various web programs and services like Google Drive, Dropbox, and Pocket. This helps to enhance its flexibility and convenience for users.
Listnr has choices for integration with other platforms and services. It offers APIs and SDKs that let programmers cover Listnr's text-to-speech features in their creations.
Read more: LOVO Reviews: Best Text-To-Speech AI Platform Ever
Customer support
Speechify assists customer support through various channels, including email, online chat, and a comprehensive knowledge base.
People can reach out to the Speechify support team for assistance with any questions, technical difficulties, or inquiries they may have.
Similarly, Listnr also provides customer support to assist users with their needs. They have a support center where users can access documentation, FAQs, and guides to find answers to common questions.
Listnr may offer email support or a contact form for users to contact for further inquiries.
Conclusion
By and large, both provide distinct features and benefits for text-to-speech conversion. While Speechify might work wonders for reading books or documents thanks to its tracking function, Listnr is geared towards customization, allowing you to fine-tune the output.
Hopefully, our Speechify vs Listnr comparison has helped you select the text-to-speech application that best fits your needs.
Is Speechify or Listnr better?

This relies on your needs and personal preferences. Speechify's tracking feature may make it ideal for reading books or papers, while Listnr is focused on customization and lets you fine-tune the output.

Is Speechify better than reading?

It depends on individual preferences and needs. Speechify offers the convenience of converting text to speech, allowing users to listen to content instead of reading it. This can benefit those who prefer auditory learning or have difficulty reading for various reasons.

What can I use instead of Speechify?

If you're looking for alternatives to Speechify, several options are available. Some popular choices include Natural Reader, Voice Dream Reader, Google Text-to-Speech, and Microsoft Immersive Reader.