Creating videos in minutes – if not seconds – is no longer a pipe dream. Lumen5 made the world explode right after its long-awaited debut, revolutionizing how creative teams function and assign roles.
Anyone who wishes to catch up with the trend should start educating themselves on this software as soon as possible.
Our Lumen5 reviews aim to streamline that process for you by providing insightful details on Lumen5's operation, benefits, and main highlights.
Let's get straight to it!
Overview About Lumen5
As an AI video generator, Lumen5 utilizes artificial intelligence (or AI) to turn all your written content into eye-grabbing and informative videos. It caters mostly to novices or beginners with no experience, allowing them to generate fast yet high-quality clips within minutes.
To get started, users can input an article or a blog post, from which Lumen5 goes on to produce suggested visuals and storyboard that aligns with the article's content.
Further customizations such as music background, additional media, and color changes are then implemented to give the clips a more professional outlook, making them shareable on websites, social media, and other platforms.
What Are The Main Features Of Lumen5?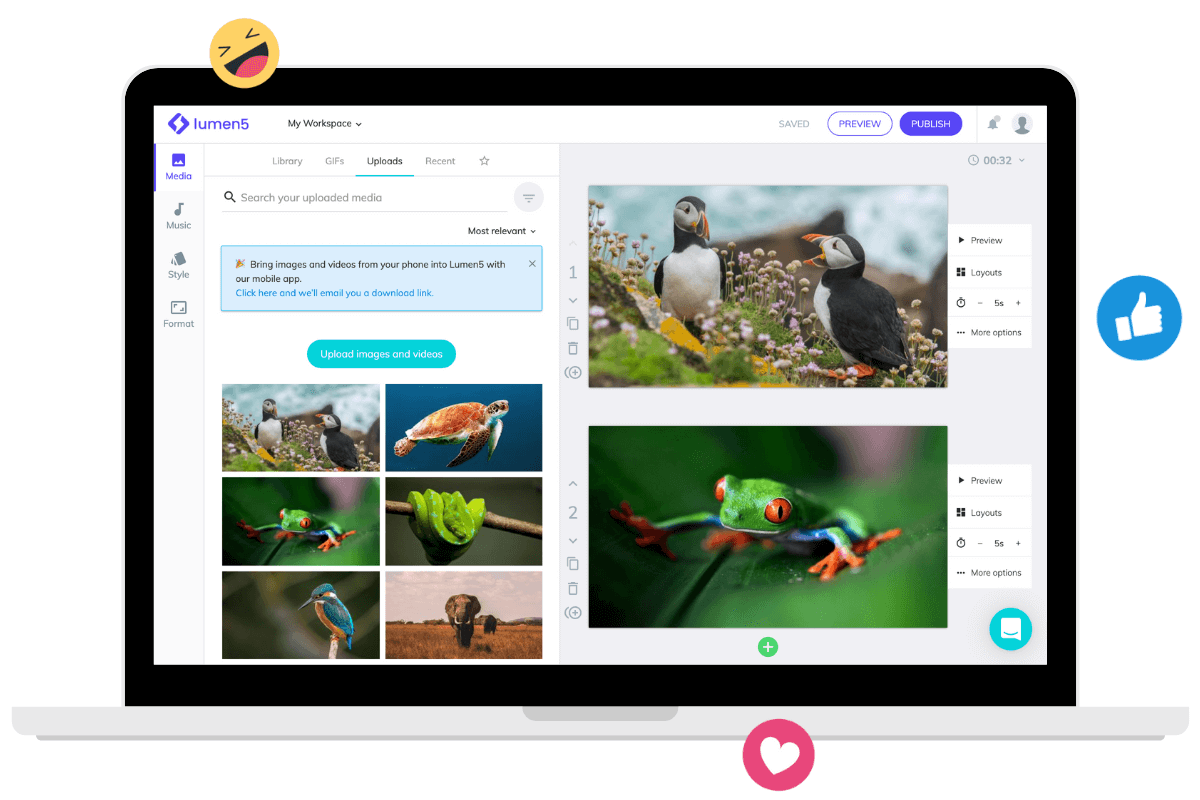 Despite numerous tools and software of similar purposes, people decide to flock to Lumen5 – and for good reasons. Here are some of them:
Automated Video Generation
One cannot mention Lumen5 without praising its automated generation process.
As briefly discussed in our overview section, Lumen5 analyzes written prompts to create corresponding storyboards, automating the video-making process to a new level.
Beginners or those stuck with creative blocks never have to design everything from scratch or spend days searching for inspiring footage on the Internet, Lumen5 has taken care of it all!
To use this feature, users only need to perform the following steps:
Step 1: Choose the concept, key themes, and other critical information input.
Step 2: Arrange the points into concrete paragraphs and articles.
Step 3: Put them into the input port. Give Lumen5 some time to analyze and process these data, though in most cases, that does not take more than fifteen minutes.
Step 4: Receive the output visuals.
And that's it; aside from step 1, the process barely needs your active involvement. This streamlined workflow proves helpful for content creators and businesses that need to pump out videos on a regular basis.
Read more: Lumen5 vs Pictory
Extensive Learning Resources
What cements Lumen5's position on the market lies in its extensive learning resources, allowing its features and capabilities to stay updated.
It curates and collects data from millions of tutorial videos, product demos, and webinars to improve its pre-made templates and designs, ensuring they work well with users/topics of all ranges.
The software also welcomes regular user feedback. Its development team analyzes defects/loopholes pointed out by its clients and strives to address those dilemmas with punctual updates.
As a result, thanks to these strengths, user experience is always guaranteed, which sets Lumen5 miles apart from outdated competitors.
Easy Editing
Like any AI-generated video, Lumen5's clips warrant more personalized touches to suit each brand's message. That is where its immersive and easy-to-use editing tools come into play.
For one, we are impressed with its vast library of images and footage, rather than turning to low-quality stock photos on the Internet, users can integrate thousands of HD, beautifully designed pictures into their draft with a single click.
Next, the aspect ratio and framework are open to adjustments, too, to secure the video's compatibility with specific social media platforms (ex: Instagram).
Once settling with the media and visual choices, users continue to be introduced to Lumen5's advanced customization. Simple drag-and-drop functionalities let you perform adequate changes to the storyboards, including:
New text overlays
Animation
Background music
Pacing and timing
Better yet, Lumen5 offers a real-time preview to gain you a quick insight into how the above changes turn out.
Seamless Exportation
Wrapping up the list of Lumen5's major highlights is its smooth exportation, a key element that draws millions of users to the software.
For starters, the format diversity is noteworthy: from standard MP4 and MOV to long-form gifs, the brand promises to meet the exportation demands of all demographics.
Once users have settled on an exporting option, Lumen5 proceeds to render and optimize the clip's dimensions within mere minutes, double the speed of most AI generators of the same price range.
Better yet, direct sharing to other media platforms (Youtube, Instagram, or Facebook) is within reach – and you do not have to leave Lumen4's dashboard to do so. A freshly-published clip can be introduced to thousands of followers in a blink, further boosting your brand's visibility.
Who Should Use Lumen5?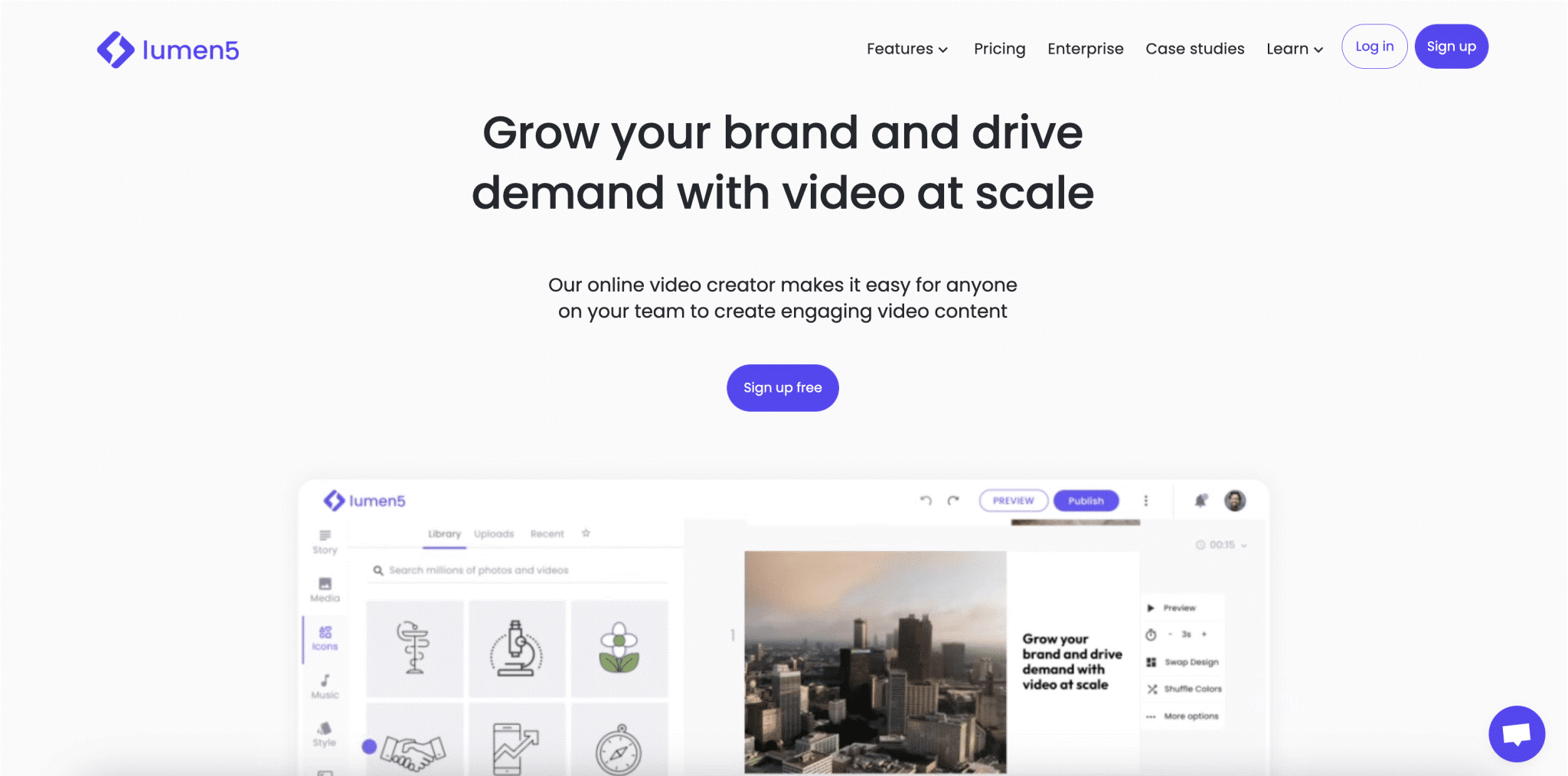 Lumen5 is most popular among businesses and brands; the software has reportedly been used by over 100,000 corporations, a testament to its efficiency and powerful performance.
Still, that does not mean individuals or regular content creators cannot find what they want with Lumen5. Whether it is a quick family photo compilation or a PowerPoint presentation to do pitchings or annual reports, the software promises to deliver only the best quality outputs.
Regarding niche expertise, Lumen5 aims at beginners and novices – as we have stressed in our article, so people who prefer special effects or complex edits will likely be satisfied with other, more high-end products.
Read more: Magisto Reviews
How About Other Factors Of Lumen5?
After discussing the key features of this great software, users also want to know other criteria such as prices, advantages, and drawbacks, or even compared to its rival. Check them out below!
Pricing
Browse through these four pricing plans to secure the best package for your campaign or project:
Basic: 29$ per month
Access to free icons
1 million stock videos and images
Starter: 79$ per month
Every feature in Basic
1080p resolution
50 million media stock
Customized fonts and colors
Professional: 199$ per month
Every feature in Starter
500 million media stock
Custom watermark
Saved templates
Brand kits
Custom: Up for negotiation
Every feature of Professional
Collaboration mode
Customer support
Bespoke templates
Enterprise-grade security
Pros And Cons
To sum it up, Lumen5 is a great AI generator with both ups and downs:
Pros
Seamless video generation and exportation
Diverse pricing plans
Advanced yet easy-to-use editing tools
Broad stock media library (at least 1 million images and videos)
Cons
Expensive
Occasional lagging
Comparisons
Lumen5 and InVideo often prompt heated debates regarding which outperforms; hence, we decided to pitch the two together. Below is the rough outcome:
| | | |
| --- | --- | --- |
| Key features | Lumen5 | InVideo |
| Access Control | Yes | No |
| Bulk Uploading | No | Yes |
| Advanced edits | Yes | Yes |
| Mobile compatibility | No | No |
| Automated Captions | No | Yes |
Lumen5 slightly lags in some critical features (ex: bulk loading and automated captions); but overall, the two are fairly similar.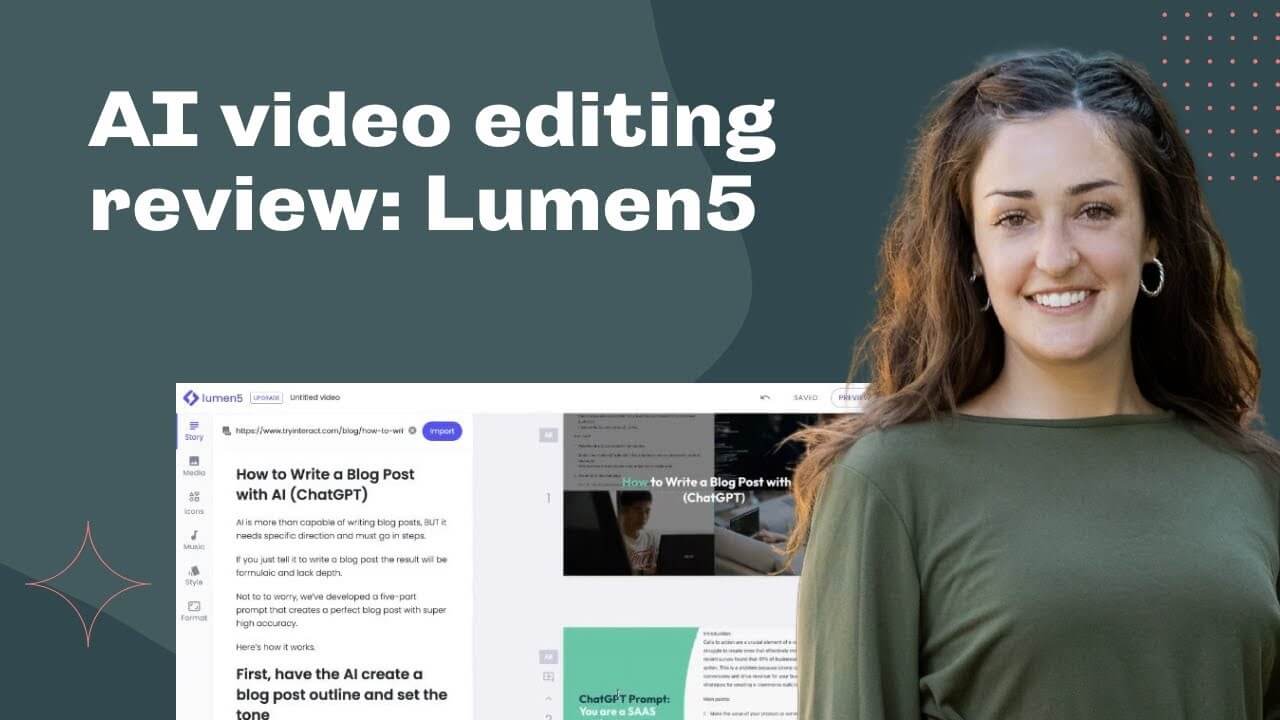 Lumen5's lack of free trials is one of its greatest disadvantages; newcomers find it difficult to assess the software's performance before purchases – and decide to avoid it altogether. Improve this drawback, and Lumen5 will secure its place among our all-time favorite generators.
Rating: 8.2/10
Conclusion
Our Lumen5 reviews have extensively discussed its features and drawbacks to provide beginners and new customers with the most inclusive overview.
If you need more support or clarification, our inbox is always open.
Thank you for reading!
How much does Lumen5 cost?

Its starting price is 29$ per month. Refer to our guide above for more info about other pricing packages.

What are the best Lumen5 alternatives?

If Lumen5 is beyond your budget, consider InVideo, iMovie, or Animaker. They provide roughly similar features to Lumen5 with a few extra special effects.

Which field/industry does Lumen5 work best for?

Any sector with high demands for regular video content will find Lumen5 a great ally. Even non-commercial projects like class presentations or family photo compilations can benefit from Lumen's capable editing/generating tools.