It may be truly amazing when a text-to-speech reader speaks all text aloud for you.
This is where Speechify can help. Speechify app can read any text aloud, in a human-like voice, so you can take a break and listen.
Let's dive deeper into our Speechify reviews further to find out whether it is the best option for you.
What Is Speechify?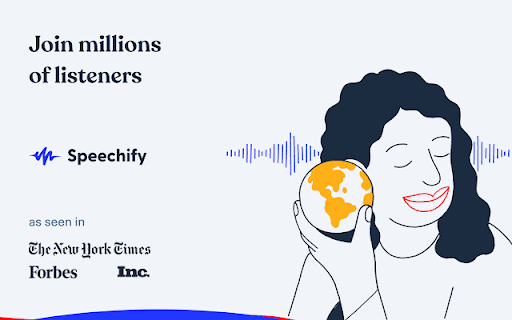 Before going further into our Speechify review article, figure out what Speechify is and its purposes.
Speechify is a text-to-speech reader software that can read any text you provide in a humanlike non-robotic voice.
You can paste text and precisely convert it to audio with Speechify. The best part of Speechify is its optical character recognition converting physical books into audiobooks. This makes Speechify stand out from other competitors.
Cliff Weitzman, a dyslexic individual, developed Speechify. Because he has trouble reading and finds daily activities difficult. That's why Speechify is born to help anyone suffering from ADHD and dyslexia.
In addition to the purpose of supporting dyslexia, Speechify also allows you to boost your productivity and understand more of the content that you read.
It's a perfect solution for students, content creators, writers, editors, and passionate readers for text-to-speech features supporting content editing purposes.
Let's go on to the exciting part: detailed Speechify reviews.
Read more: Speechify Vs Murf: What Differences To Keep In Mind?
What Are Speechify's Benefits?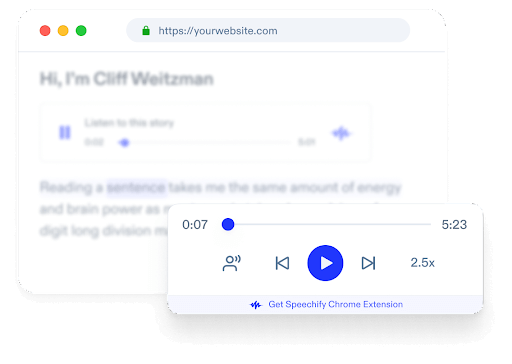 Have a high reading speed
Wonderful! The speech rate can be set to up to 900 words per minute!
Speechify content can be sped up to 9x faster than the average speed. This will help you increase productivity and make the most of your time.
However, keep in mind not to speed up too much. You may be unable to understand what is being said.
We recommend a maximum speed of 400wpm, which is twice as fast for a comfortable pace.
Include a wide range of voices
You can select from a variety of lifelike voices that sound realistic and natural. You can even choose some voices from famous people like Snoop Dogg and Gwyneth Paltrow.
However, you need to upgrade to the premium subscription to experience non-robotic and natural voices for pleasant listening.
Instant translation
You can translate any piece of writing quickly into more than 30 different languages. This is really helpful for businesses who want to produce information in a variety of languages and have a customer base worldwide.
Just keep in mind that because Speechify's accuracy level is approximately 90%, you still need to proofread any translations it creates.
Read more: LOVO Reviews
Cross-platform reading
With the intention of servicing the same people on PC, Speechify developed a Chrome extension. Thank to this, you can read email and other web information more quickly with that addon.
What Are Speechify's Drawbacks?
Word limit
The monthly word limit for premium voices on Speechify app is 150,000 words. Once you reach the limit, only the standard voices are available. This is frustrating since it is beyond the first 150 pages of a book, and the audio becomes robotic and annoying.
Robotic voices
You may get typical and natural voices. However, while HD voices sound more realistic than non-HD voices, they are not human, in fact. That's why you will find them somewhat robotic.
When you spend hours listening, you may not enjoy such voices which gradually become unnatural.
Moreover, HD voices version are set at a 1.5 million characters limit each year while non-HD ones are unlimited.
Not 100% accurate
Keep in mind that Speechify is not a complete alternative to audiobook tools because optical character recognition doesn't always work correctly.
If you use Speechify to listen to audiobooks, you may occasionally notice that certain spoken words and sentences don't make sense.
No tool is flawless, as you can see, so you'll just have to learn to live with mistakes. Be at ease, though! Developers will create better algorithms and technology to make improvements soon.
Read more: 5 Best AI Chatbots For Customer Support
How Much Is Speechify?
Now that you've got in-depth Speechify reviews. Next, we move to its pricing. Speechify offers you 3 versions:
Speechify limited: Free
This free trial version provides users with limited functions, including:
You are able to access robot voices only.
You will have a maximum word rate of 400 per minute.
You are unable to skip braces. parenthesis, brackets, citations, and URLs.
You will get a 3-day trial to get access the premium version. However, you should note that there are some users complaining that Speechify charged them for a one-year membership immediately when they began the trial. There was no refund provided.
So, think and learn the subscription policy carefully before starting your trial.
Speechify premium: $139 ($11.58 per month) per year
You will get all Speechify features with the Premium subscription.
Unfortunately, there is no premium monthly plan. It means that you must purchase a one-year membership subscription once.
Speechify audiobooks: $199/year
With this version, you will get actor-narrated audiobooks with 1000+ free audiobooks.
Moreover, Speechify also introduces plans of text-to-speech for schools and businesses that you need to contact the vendor for quotes.
How To Use Speechify?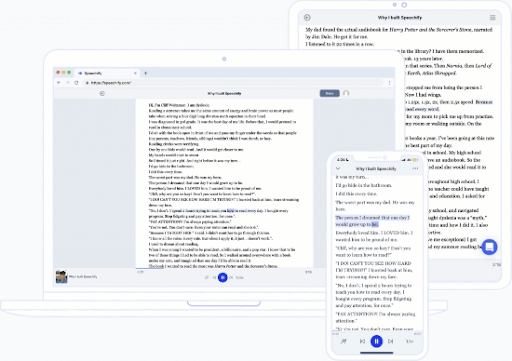 To end Speechify reviews today, we will show you how to use this platform.
You can use Speechify through Desktop, Chrome Extension, or Mobile App. Depending on the version you select, you can utilize it in various situations.
Desktop
You need to download and set up Speechify on your computer before using it on a desktop.
Next, create an account. Copy and paste the text into the app or upload your existing text file from your PC.
Read more: Speechify Vs Listnr
Chrome extension
Download the Speechify Chrome extension from the web store and install it on your browser.
Create an account to get started.
Click the Speechify extension and then select ''Show Play Button''. Then it will appear in your browser. Click it once you want to turn text into speech,
Mobile app
iOS and Android platforms both support Speechify. You can download it free from the Google Play or Apple App stores.
Create a new account. Copy and paste the text into the app or upload your existing text file.
Then click "Play" after choosing the voice and speed you want to hear.
Conclusion
By now you've already got our thorough Speechify reviews with detailed pros and cons. Should you go with Speechify?
Without a doubt, Speechify is one of the best apps if you want to enhance your productivity or reading speed.
We hope our Speechify reviews will give you a clear idea of this text-to-speech platform. Make the final choice of people considering your budget and needs.
Is Speechify actually safe?

Yes. Basically, Speechify is a perfectly trustworthy and secure text-to-speech software. None of the speeches produced by Speechify are recorded. Therefore, only you can listen to any data coming from your email.

Does Speechify collect your data?

Yes. Speechify does gather your data. However, do not worry because your data will also always stay secure and confidential. Speechify uses the same security techniques as any other high-end web service to protect connections.

Is Speechify worth it?

Yes. It all falls on your preferences, needs, and budget. Speechify is a great investment for bulky works and texts, even if some may find the cost a little too much.