Today, big brands are looking to get things done efficiently, meet their business goals, and make sure their customers are happy. To do this, they're using automated customer support. As part of this trend, a lot of business leaders plan to spend more on AI in the next two years. There are many companies that offer automated support, all promising the best AI, quickest results, and easiest user experience. 
So, in this article, we will help you pick the best AI chatbot for your customer service which can seem tough.
Ultimate is at the top of our list of advanced solutions for businesses. They're known around the world for helping companies automate their customer support. 
Ultimate uses a simple platform that doesn't require any coding knowledge, along with an easy-to-use Dialogue Builder. This means customer service teams can make advanced conversation guides and help customers faster and in a friendlier way. What's more, while other platforms have limited languages, Ultimate provides 109 different languages and doesn't need a translation layer. So, many users from all over the world can access it easily. 
Moreover, it can also easily integrate with popular CRMs, like Zendesk, Salesforce, and Freshworks. So, it can bring the perfect combination to help you optimize the process effectively. Plus, Ultimate provides special API connections. This lets your chatbot talk to your backend systems and automate more complex tasks from start to finish.
Furthermore, with Ultimate, you can automate simple tasks and answer customer questions quickly on all digital platforms. This includes email and messages on social media. Additionally, with advanced reports in many languages, you can always see how your bot is doing.
This technology uses your old customer support information to make a unique AI system that works just right for your business. And be sure your data is safe with Ultimate because they follow strict rules for data protection. 
Key features of Ultimate include:
Easy-to-use interface
109+ languages
Easy integration with CRM system and special API connections
They follow GDPR and SOC2 type-2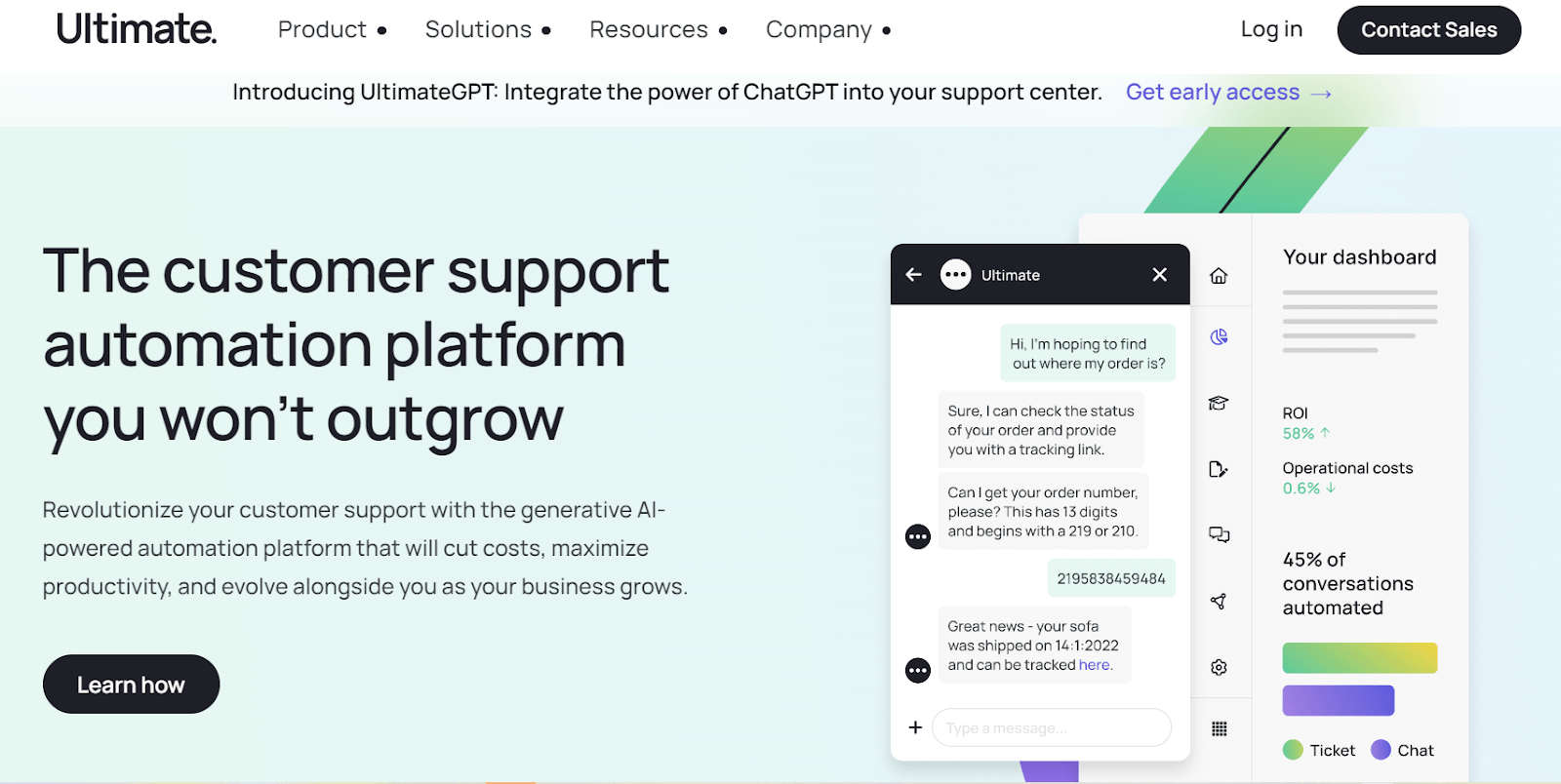 The second tool in our top list is CX Genie, a transformative solution that uses the advantage of the AI engine, ChatGPT. Well, if your business wants to make a difference compared to other competitors in customer service chatbox, this tool is the best for you.
In detail, CX Genie wants to make your customer service feel special and unique. It does this by using your business's own style when it interacts with customers. Moreover, it makes customers feel like they're talking directly to you, not just an AI.
CX Genie also uses its AI engine to learn from all the data you provide, including customer interactions and unique business styles. It's convenient when there is no need for manual programming or adjustments. So, all you have to do is just providing it the necessary data, and CX Genie will produce a personalized customer service response.
Furthermore, this tool is also adaptable and integrates into your website, providing a truly personalized user experience. Therefore, you not only save precious time but also improve your response rates, making each interaction with customers efficient and seamless. Thanks to API, it pairs smoothly with other software and platforms, simplifying the process for you.
What is more, CX Genie also perfectly fits into your existing CRM, managing requests and functioning with your system. Whether it's responding to customer queries or working smoothly with your ticketing system, CX Genie's AI can do it all.
Here are some of the key features of CX Genie:
Learning from your unique business style
Easily integrate into your website or app
AP I-ready, for smooth operation 
Adaptation into your existing CRM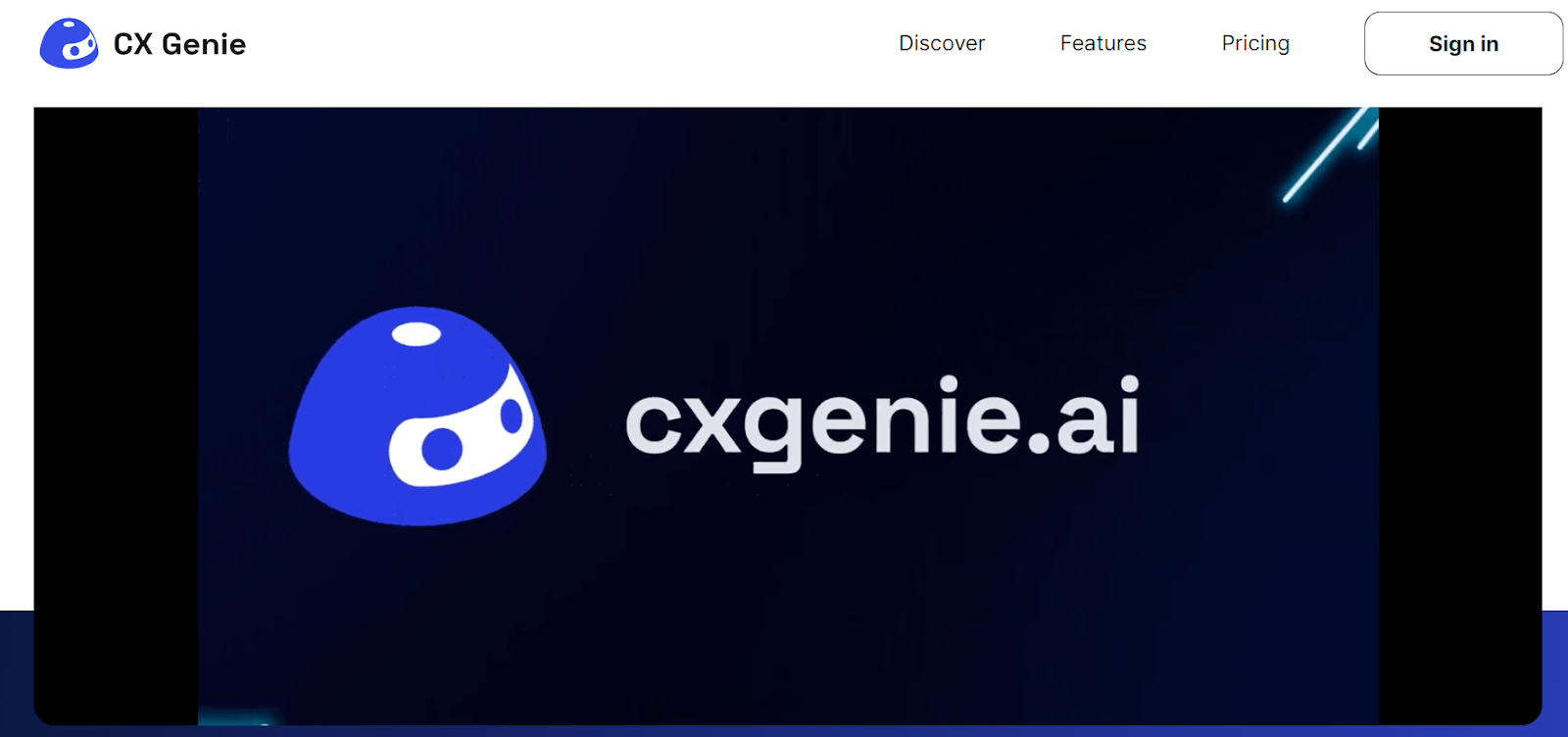 Third on our list of great AI customer service tools is Zendesk, well-known for its excellent helpdesk software. Zendesk's Answer Bot is designed to make customer service better. It's simple to use, so, you don't need complex techniques to get it working.
Answer Bot gives businesses a way to use AI for customer support. It's easy to set up, needing just a few clicks to get started. Additionally, it can support 18 different languages to communicate, and you can access it comfortably via email, chat, and messaging apps. 
In addition, if your business requires complex customer service processes that the bot isn't designed for. Therefore, you can consider choosing another advanced AI tool. 
Let's look at the key features of Answer Bot include:
18 different languages
It works across email, chat, and messaging apps
It's simple to get started, no coding is needed
It's easy to manage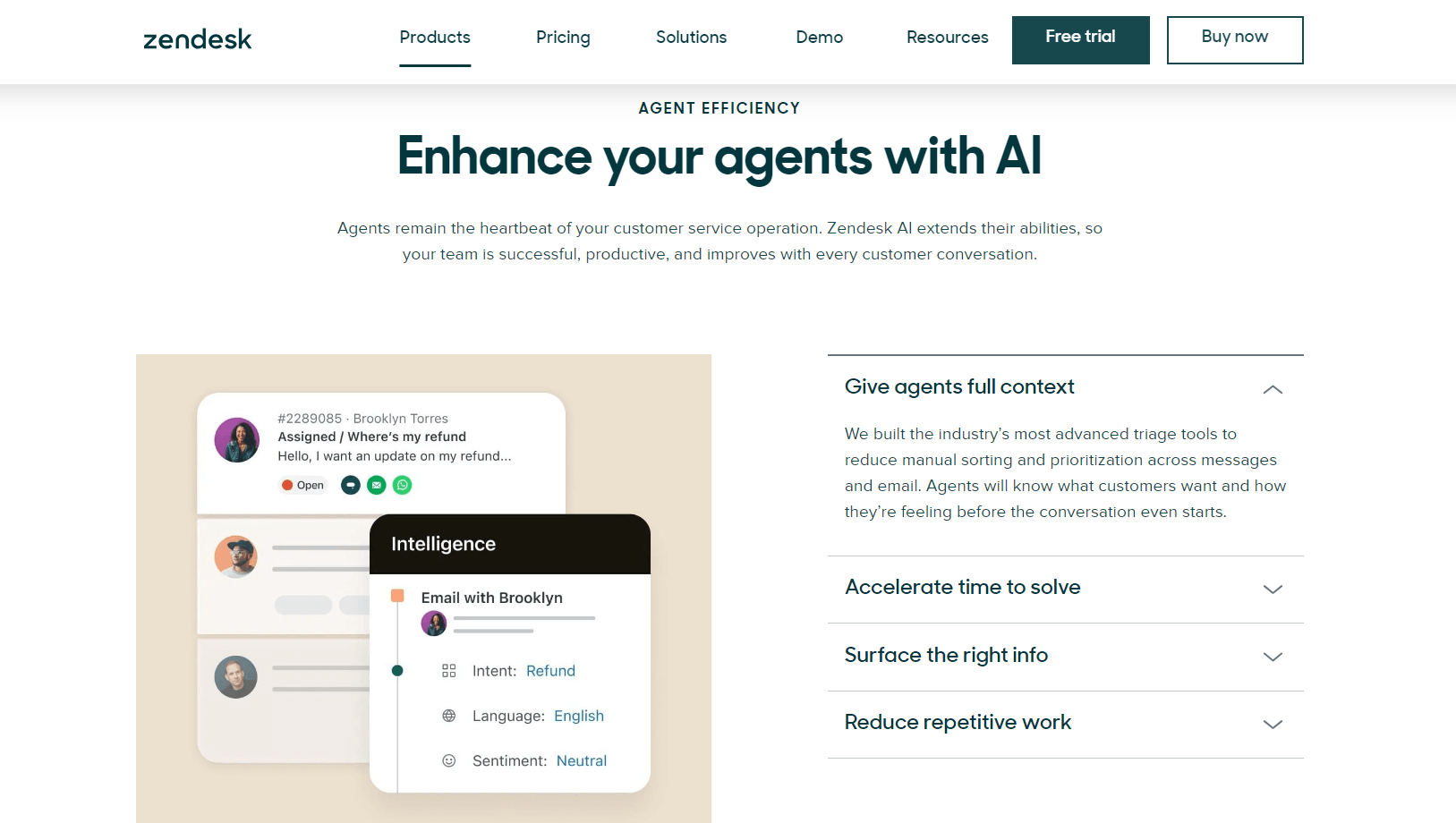 Another on our list of top AI customer service tools is Netomi. It helps businesses automatically chat with customers. So, you can save time when using this tool. Moreover, the chatbot is so smart, it's trained to understand natural conversation and can answer questions via chat, email, voice calls, and social media.
One of the best things about Netomi has native integration into other tools with other systems like Zendesk Chat, Salesforce Chat, and LivePerson. Also, it's built to easily take useful information from your business's knowledge base, helping bots find answers to questions quickly and efficiently.
Moreover, it can talk to customers in over 100 different languages. So, no matter where your customers are, Netomi can help them.
Let's take a look at the key features of Netomi:
It understands the natural conversation
Support via chatting, emailing, voice calls, and social media.
Speak 100+ languages.
It works with Zendesk Chat, Salesforce Chat, and LivePerson.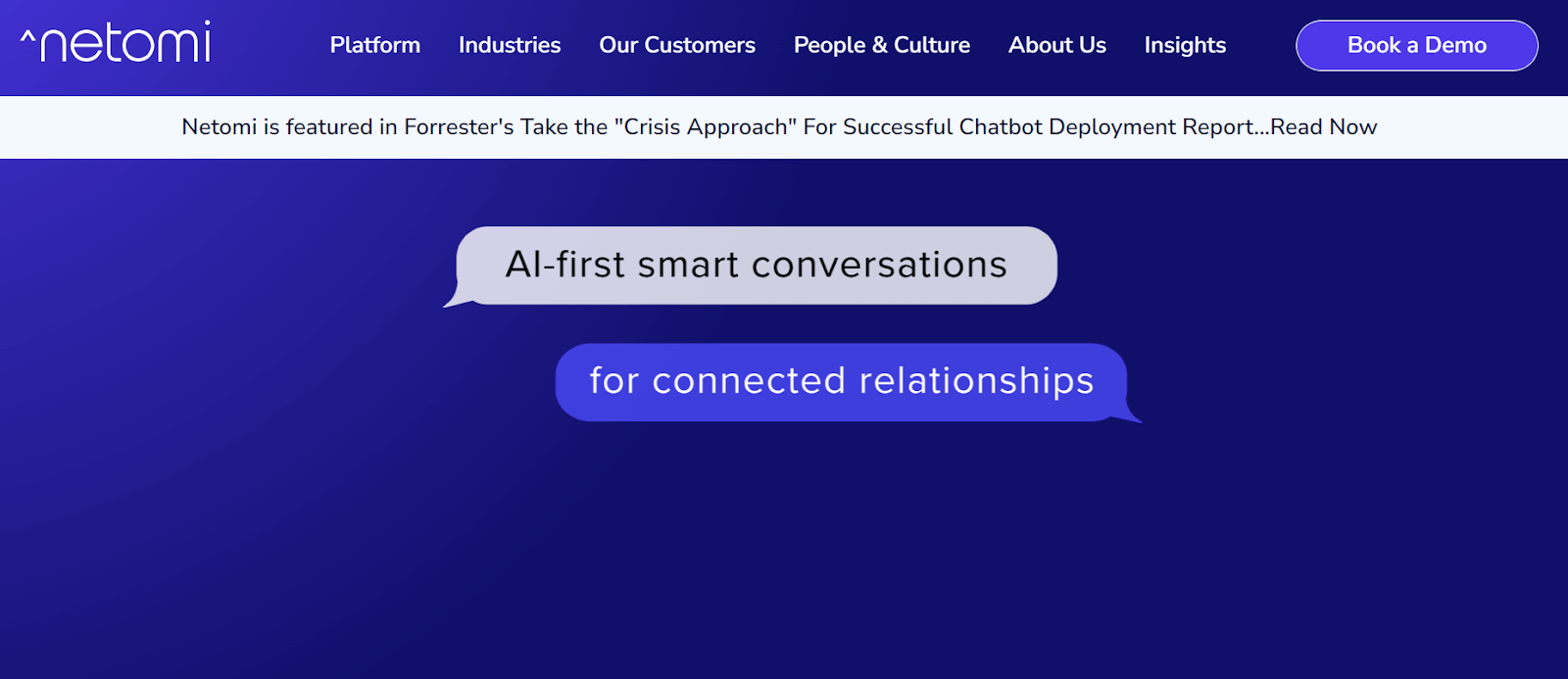 The final list is Freddy AI, developed by the well-known CRM platform, Freshworks. Freddy AI is ideal if you're looking to automate a few simple tasks within your customer service team.
Moreover, it is designed to offer immediate, automated solutions to routine customer inquiries. All it requires is an understanding of your knowledge base and FAQs, and as time passes, it continually adapts and refines its responses.
Freddy AI can be used across various chat and messaging applications, and it supports up to 47 languages, allowing you to assist customers worldwide smoothly.
Although the tool features an easy-to-use, no-code bot builder for creating decision trees, it might not offer as much flexibility as some other AI chatbots if that's what you need.
Here are the main features of Freddy AI:
Support 47+  languages
Continuous adaptation and improvement
Compatibility with chat and messaging apps
A user-friendly, no-code decision tree bot builder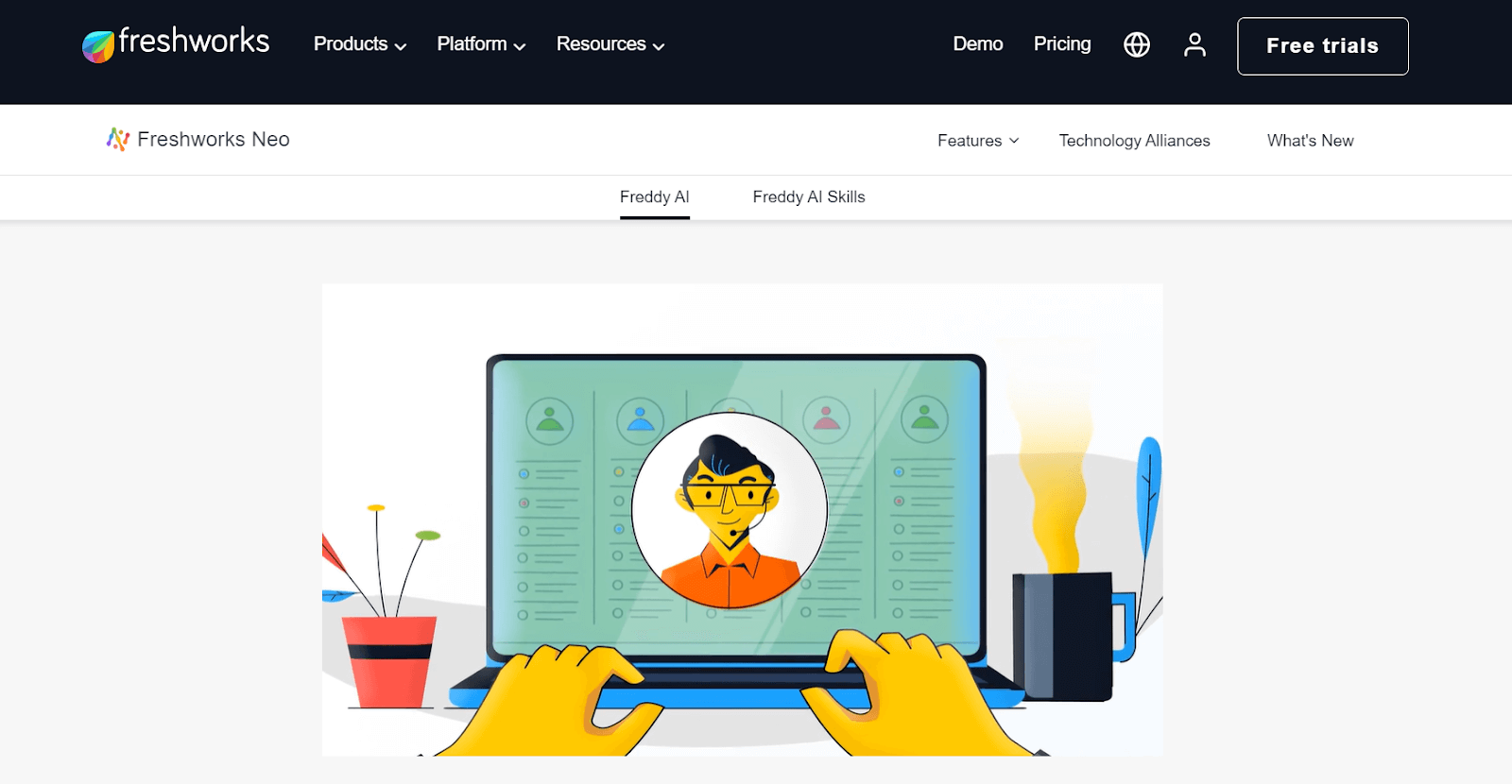 Conclusion
Looking at the top 5 best AI chatbots we've talked about, it's clear there are many good choices out there. These chatbots can really make your customer support better. The best ones are easy to use, can work on different platforms, don't need any coding, can understand many languages, and are always ready to help their users.
How does AI help in customer service?

AI helps make customer service better and more enjoyable for customers. Tools like chatbots and sentiment analysis make the work easier for your customer support team. They help them to answer customer queries faster and even anticipate what the customer might need before they ask.

Will chatbots be a common thing in customer service?

Even though people still appreciate talking to a real person in customer service, it looks like chatbots and virtual helpers will be a big part of customer service in the future. They're really good at quickly helping customers at any time of the day.

What kind of artificial intelligence powers chatbots?

Chatbots use a type of AI known as conversational artificial intelligence. This technology harnesses the power of data, machine learning, and natural language processing (NLP) to facilitate interactions between humans and computers.